One of the main thoroughfares in Sandoval County is NM Hwy 528. (Garrison Wells/Observer)
Between Unser Blvd., NM Hwy 528 and Paseo del Norte, the commute to work from Rio Rancho to Albuquerque is relatively unpleasant.
It's no Chicago or Denver, but with the driving habits of some New Mexicans, rush hour of any kind is a chore, as drivers weave in and out of traffic, speed and ride on the rear bumper of the car in front.
For Sandoval County residents, which means folks in Corrales, Bernalillo, Placitas and, notably, Rio Rancho, the average commute time is 28.4 minutes, according to the report.
That's 5.7 minutes longer than the average commute time in New Mexico.
About half of residents, 51.1 percent, work outside the county — most likely in nearby Albuquerque.
About 12.8 percent leave for work between midnight and 6 a.m.
There was little carpooling, at a mere 11.8 percent. The study found that 76.9 percent of drivers made their commute alone, 1.4 percent walked to work and 7.6 percent worked from home.
The worst commute was in Mora County, followed by Torrance, Valencia and Rio Arriba to round out the top 5.
Commuting, the study said, easily ranks as one of the least enjoyable parts of a person's day, according to a study by Stacker.
Commuters encounter more physical health problems, and low-income commuters are less likely to gain financial stability—among a host of other negative impacts. And yet, America's commutes keep getting longer as people move farther away from the office, according to census data.
Sky-high gas prices dont help.
Stacker compiled a list of counties with the worst commutes in New Mexico using data from the U.S. Census Bureau. Counties are ranked by longest average commute time, according to 2020 5-year estimates.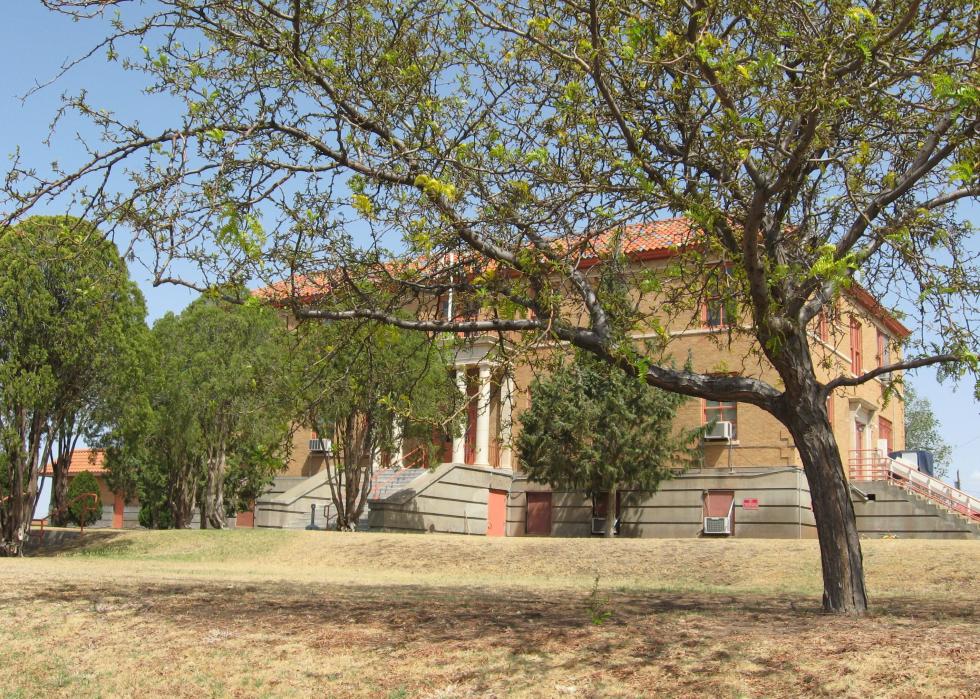 Wordbuilder // Wikimedia Commons
#33. De Baca County
– Average Commute Time: 12.3 minutes
— 10.4 minutes shorter than state average – Workers with 60+ minute commute: 5.5%
– Left for work from 12 a.m. to 6 a.m. 5.6%
– Worked outside county of residence: 5.8%
– Means of transportation: drove alone (78.4%), carpooled (9.4%), walked to work (4.3%), public transportation (0.0%), worked from home (3.1%)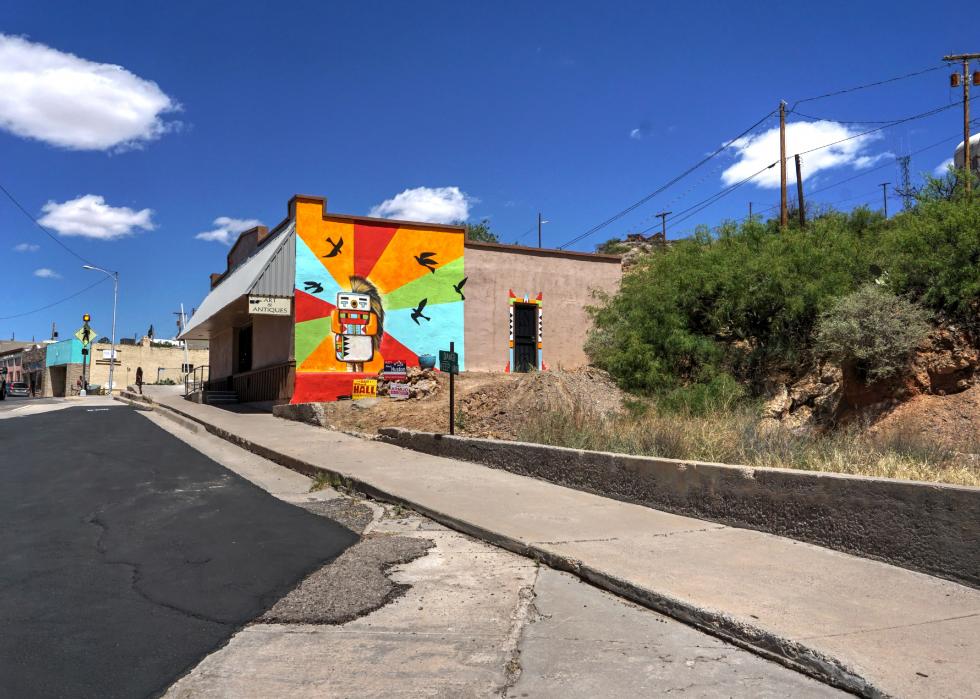 psyberartist // Wikimedia Commons
#32. Sierra County
– Average Commute Time: 15.5 minutes
— 7.2 minutes shorter than state average – Workers with 60+ minute commute: 6.0%
– Left for work from 12 a.m. to 6 a.m. 8.8%
– Worked outside county of residence: 5.0%
– Means of transportation: drove alone (76.0%), carpooled (5.6%), walked to work (3.4%), public transportation (0.5%), worked from home (6.7%)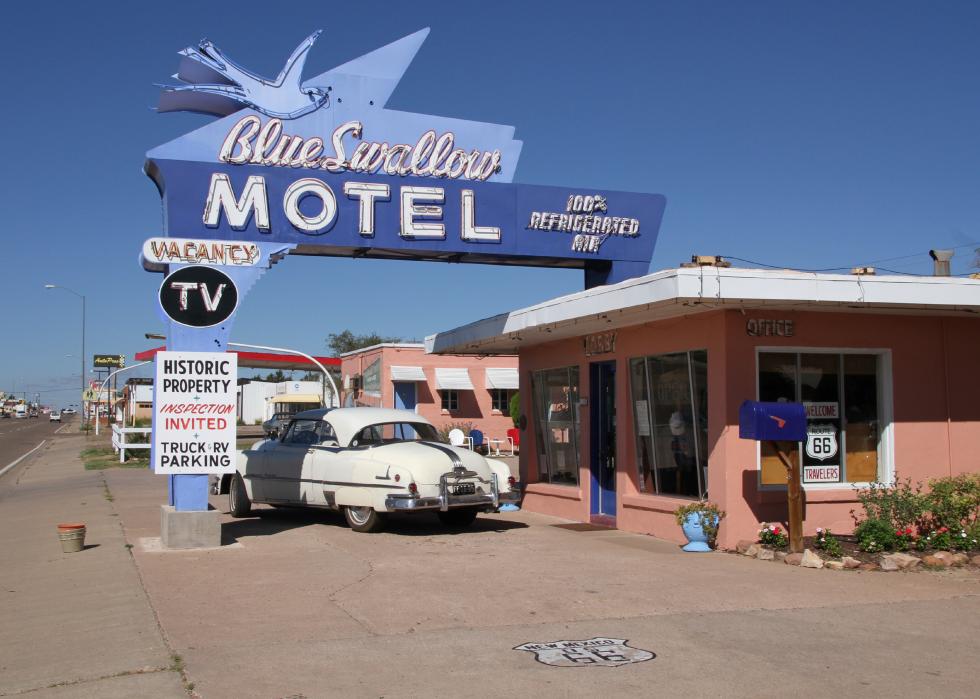 Tony Hisgett // Wikimedia Commons
#31. Quay County
– Average Commute Time: 15.5 minutes
— 7.2 minutes shorter than state average – Workers with 60+ minute commute: 6.5%
– Left for work from 12 a.m. to 6 a.m. 4.8%
– Worked outside county of residence: 12.8%
– Means of transportation: drove alone (84.3%), carpooled (8.8%), walked to work (2.7%), public transportation (0.2%), worked from home (3.8%)
Peter Potrowl // Wikimedia Commons
#30. Catron County
– Average Commute Time: 15.9 minutes
— 6.8 minutes shorter than state average – Workers with 60+ minute commute: 5.3%
– Left for work from 12 a.m. to 6 a.m. 2.2%
– Worked outside county of residence: 5.5%
– Means of transportation: drove alone (65.4%), carpooled (12.2%), walked to work (11.0%), public transportation (0.0%), worked from home (4.3%)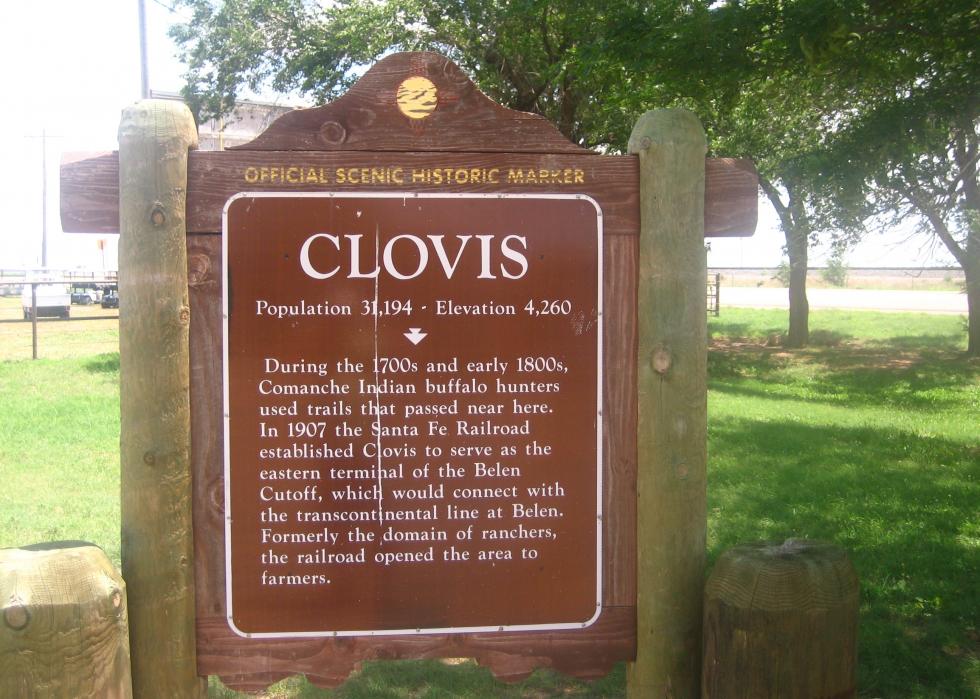 Billy Hathorn // Wikimedia Commons
#29. Curry County
– Average Commute Time: 16 minutes
— 6.7 minutes shorter than state average – Workers with 60+ minute commute: 2.3%
– Left for work from 12 a.m. to 6 a.m. 16.3%
– Worked outside county of residence: 6.1%
– Means of transportation: drove alone (82.5%), carpooled (12.0%), walked to work (2.2%), public transportation (0.2%), worked from home (1.8%)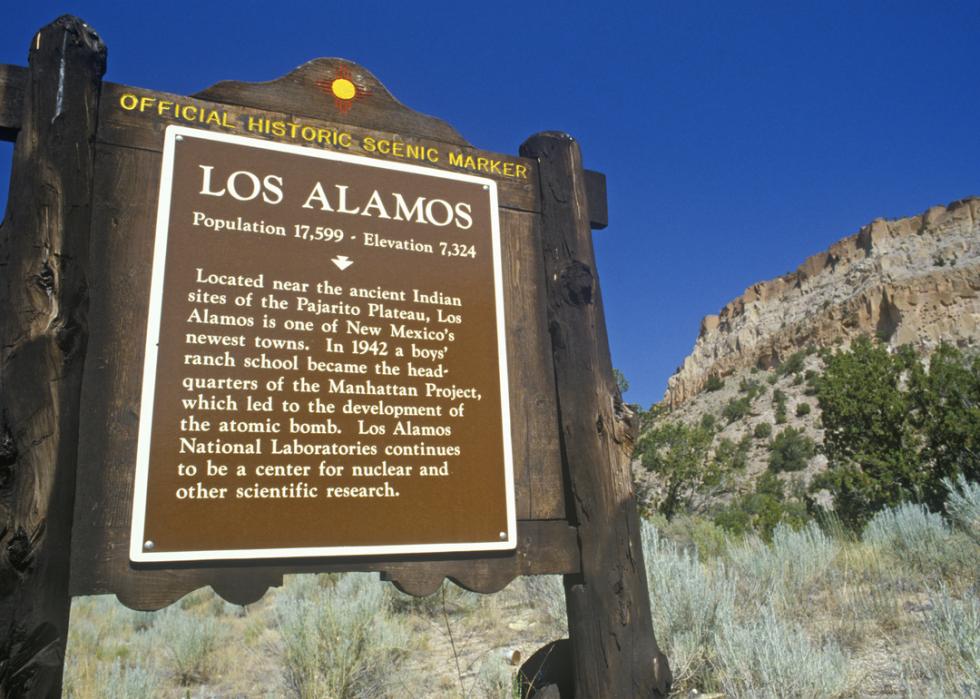 Joseph Sohm // Shutterstock
#28. Los Alamos County
– Average Commute Time: 16.5 minutes
— 6.2 minutes shorter than state average – Workers with 60+ minute commute: 1.5%
– Left for work from 12 a.m. to 6 a.m. 5.1%
– Worked outside county of residence: 5.2%
– Means of transportation: drove alone (77.4%), carpooled (8.7%), walked to work (3.3%), public transportation (2.4%), worked from home (5.0%)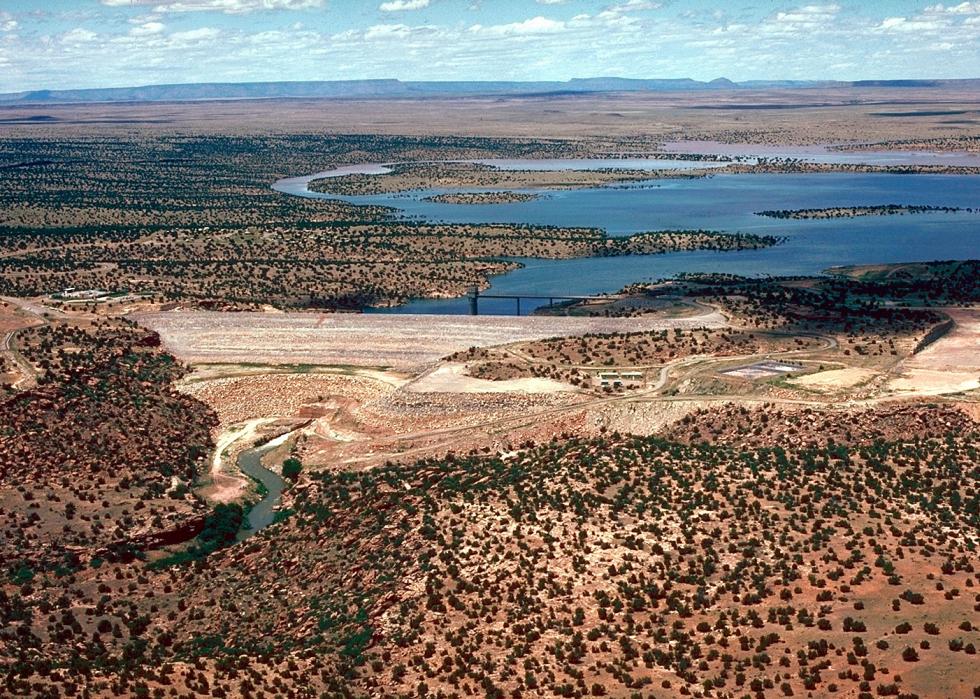 U.S. Army Corps of Engineers // Wikimedia Commons
#27. Guadalupe County
– Average Commute Time: 16.8 minutes
— 5.9 minutes shorter than state average – Workers with 60+ minute commute: 6.4%
– Left for work from 12 a.m. to 6 a.m. 9.3%
– Worked outside county of residence: 4.1%
– Means of transportation: drove alone (86.5%), carpooled (5.2%), walked to work (3.9%), public transportation (0.0%), worked from home (4.4%)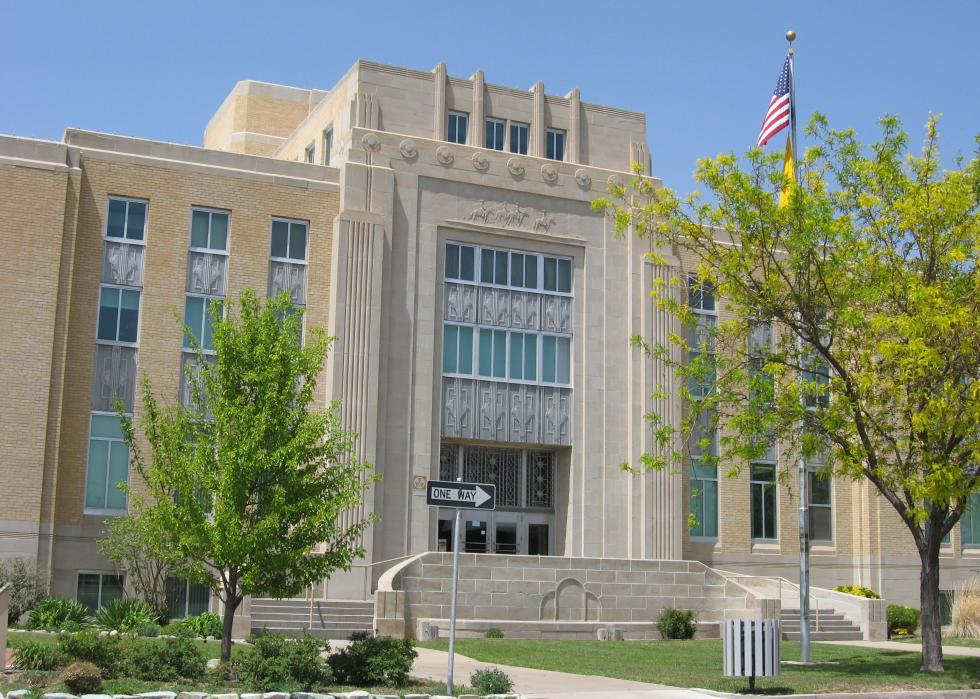 Wordbuilder // Wikimedia Commons
#26. Roosevelt County
– Average Commute Time: 17.2 minutes
— 5.5 minutes shorter than state average – Workers with 60+ minute commute: 3.2%
– Left for work from 12 a.m. to 6 a.m. 15.0%
– Worked outside county of residence: 26.2%
– Means of transportation: drove alone (75.4%), carpooled (13.7%), walked to work (5.1%), public transportation (0.4%), worked from home (2.5%)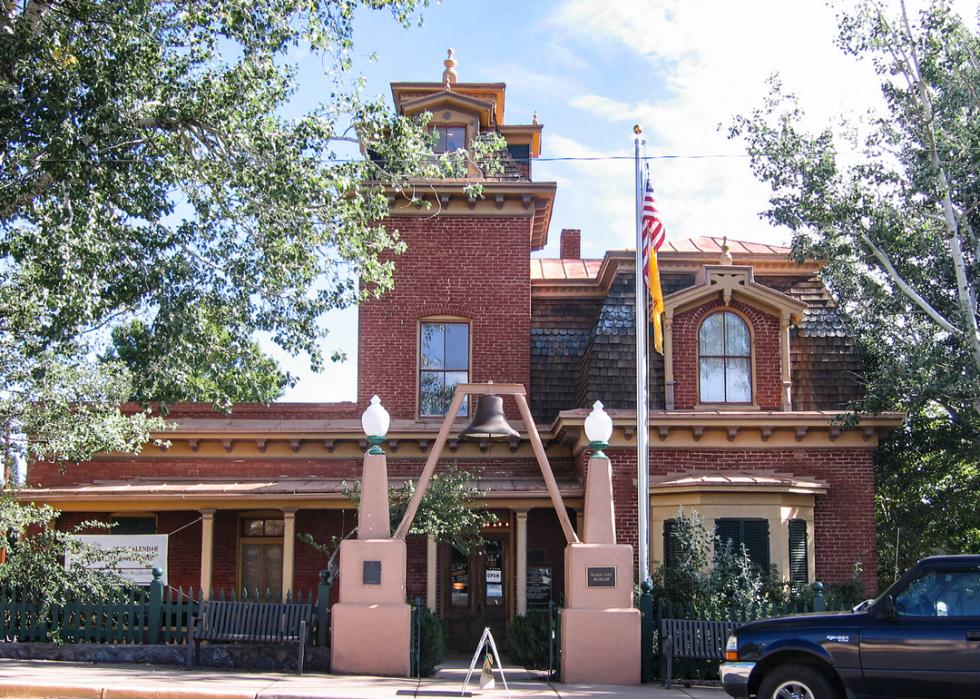 Underawesternsky // Shutterstock
#25. Grant County
– Average Commute Time: 17.2 minutes
— 5.5 minutes shorter than state average – Workers with 60+ minute commute: 3.5%
– Left for work from 12 a.m. to 6 a.m. 12.7%
– Worked outside county of residence: 3.4%
– Means of transportation: drove alone (78.3%), carpooled (10.1%), walked to work (2.3%), public transportation (0.5%), worked from home (7.7%)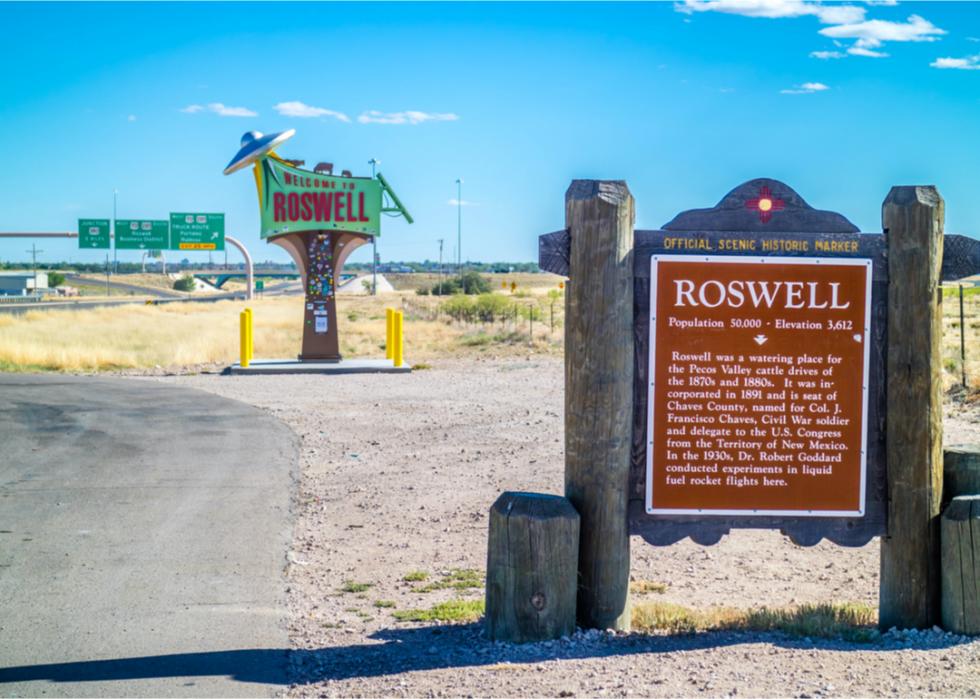 Cheri Alguire // Shutterstock
#24. Chaves County
– Average Commute Time: 17.7 minutes
— 5.0 minutes shorter than state average – Workers with 60+ minute commute: 5.2%
– Left for work from 12 a.m. to 6 a.m. 15.8%
– Worked outside county of residence: 9.4%
– Means of transportation: drove alone (84.5%), carpooled (9.5%), walked to work (1.2%), public transportation (1.4%), worked from home (2.3%)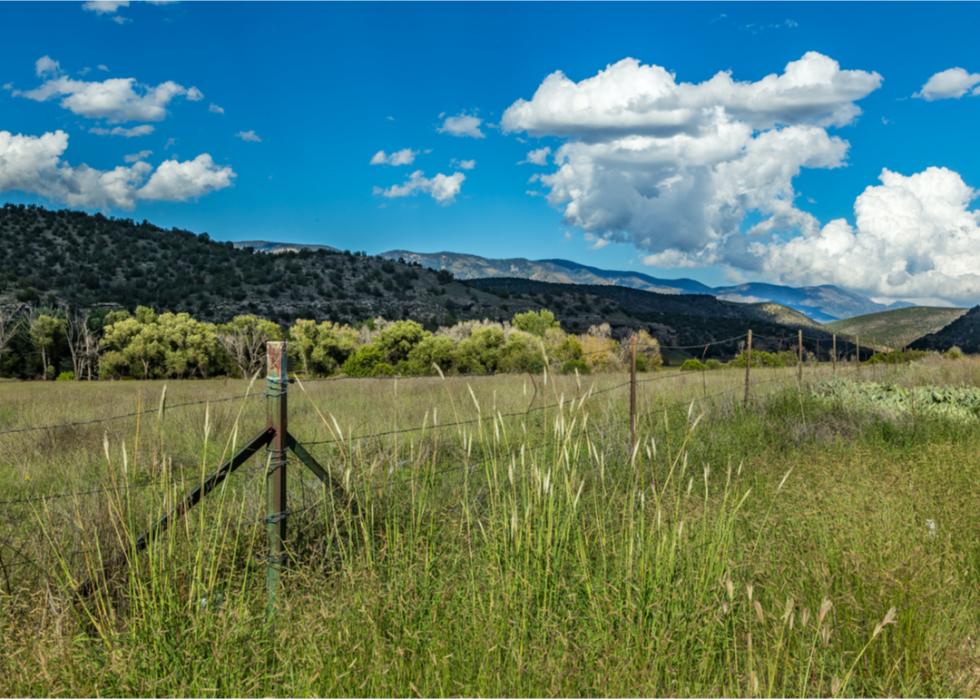 Gestalt Imagery // Shutterstock
#23. Lincoln County
– Average Commute Time: 17.8 minutes
— 4.9 minutes shorter than state average – Workers with 60+ minute commute: 3.3%
– Left for work from 12 a.m. to 6 a.m. 4.2%
– Worked outside county of residence: 7.7%
– Means of transportation: drove alone (71.7%), carpooled (11.1%), walked to work (0.6%), public transportation (0.2%), worked from home (14.0%)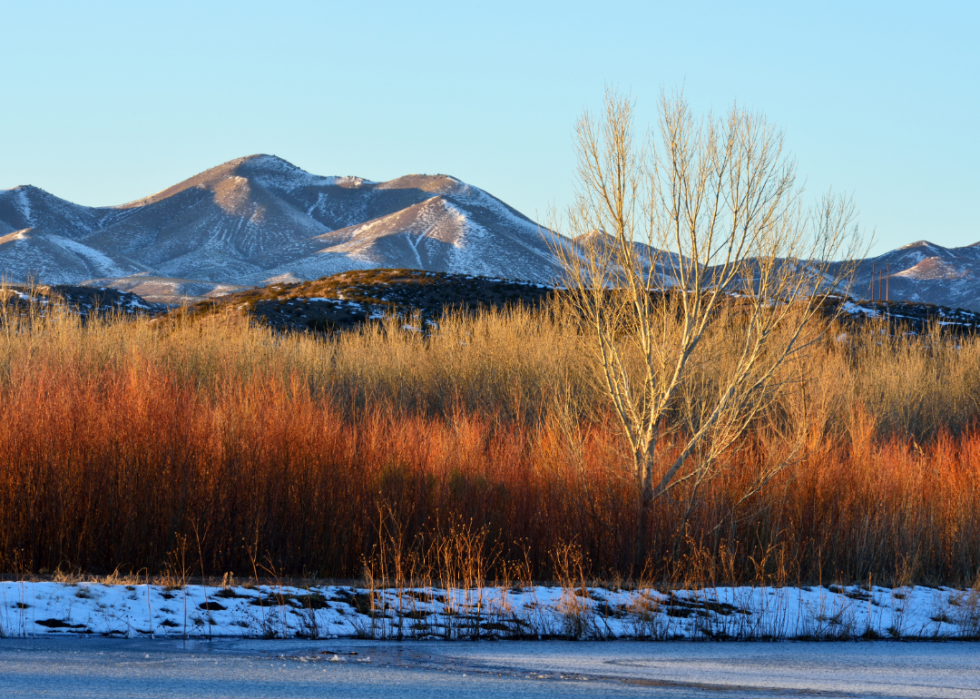 #22. Socorro County
– Average Commute Time: 18.7 minutes
— 4.0 minutes shorter than state average – Workers with 60+ minute commute: 4.7%
– Left for work from 12 a.m. to 6 a.m. 6.6%
– Worked outside county of residence: 18.7%
– Means of transportation: drove alone (63.2%), carpooled (11.0%), walked to work (5.8%), public transportation (0.3%), worked from home (14.9%)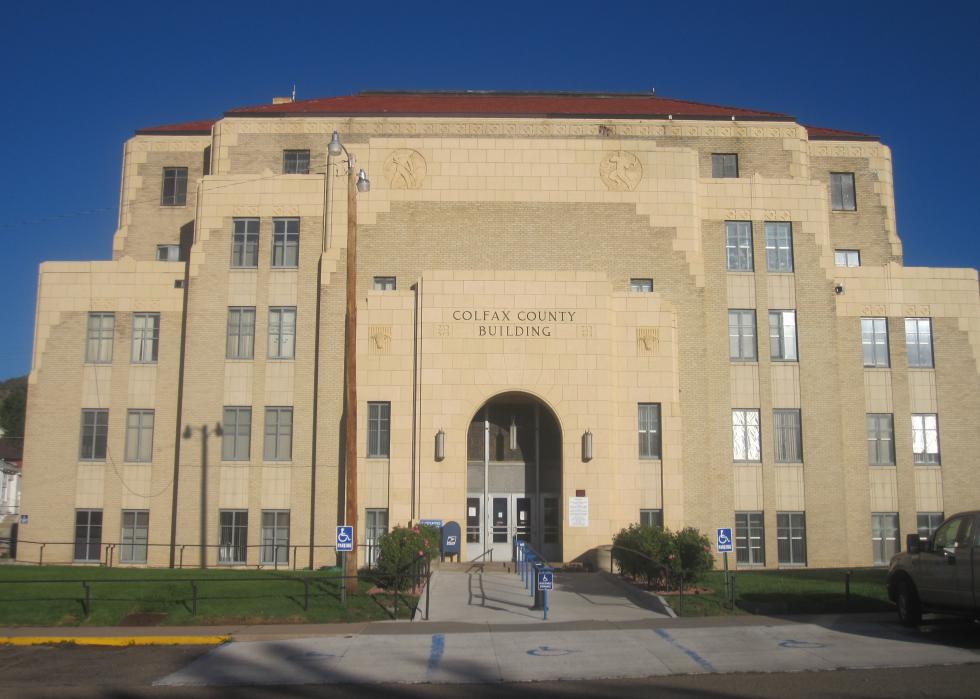 Billy Hathorn // Wikimedia Commons
#21. Colfax County
– Average Commute Time: 19 minutes
— 3.7 minutes shorter than state average – Workers with 60+ minute commute: 7.4%
– Left for work from 12 a.m. to 6 a.m. 8.6%
– Worked outside county of residence: 5.2%
– Means of transportation: drove alone (72.6%), carpooled (13.9%), walked to work (2.3%), public transportation (0.1%), worked from home (10.5%)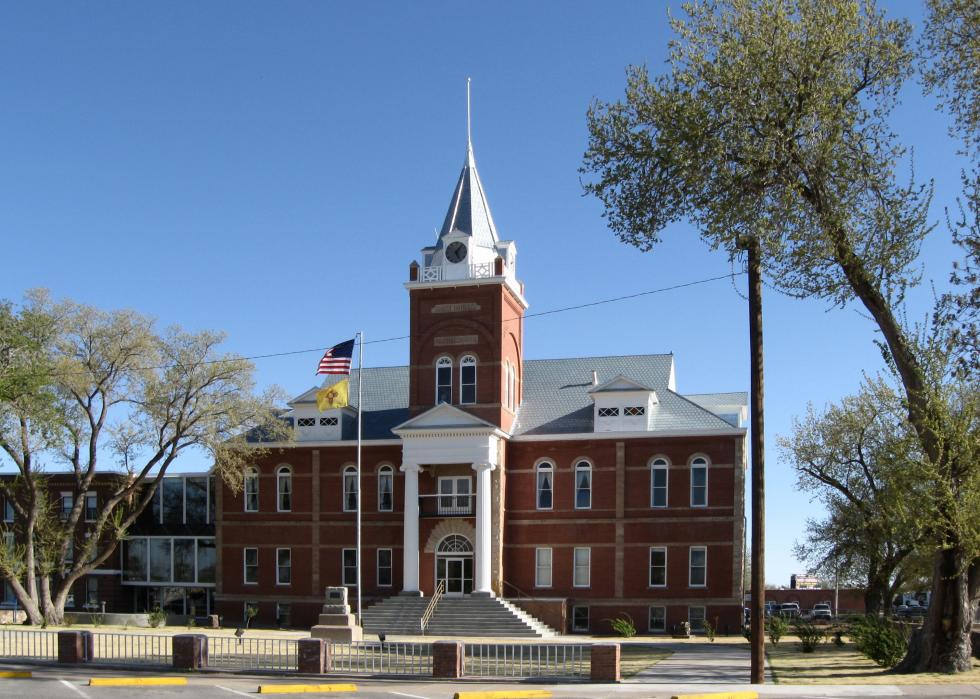 AllenS // Wikimedia Commons
#20. Luna County
– Average Commute Time: 19.3 minutes
— 3.4 minutes shorter than state average – Workers with 60+ minute commute: 7.5%
– Left for work from 12 a.m. to 6 a.m. 15.7%
– Worked outside county of residence: 8.5%
– Means of transportation: drove alone (77.0%), carpooled (14.0%), walked to work (2.5%), public transportation (0.5%), worked from home (4.5%)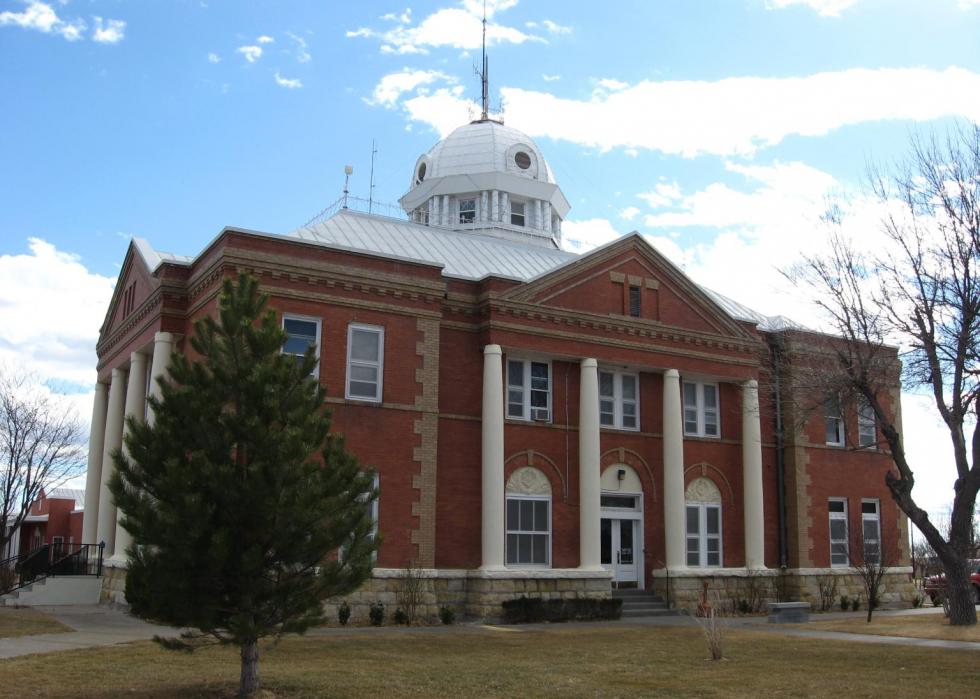 Wordbuilder // Wikimedia Commons
#19. Union County
– Average Commute Time: 19.6 minutes
— 3.1 minutes shorter than state average – Workers with 60+ minute commute: 4.6%
– Left for work from 12 a.m. to 6 a.m. 24.4%
– Worked outside county of residence: 0.4%
– Means of transportation: drove alone (75.7%), carpooled (9.4%), walked to work (7.1%), public transportation (0.0%), worked from home (6.5%)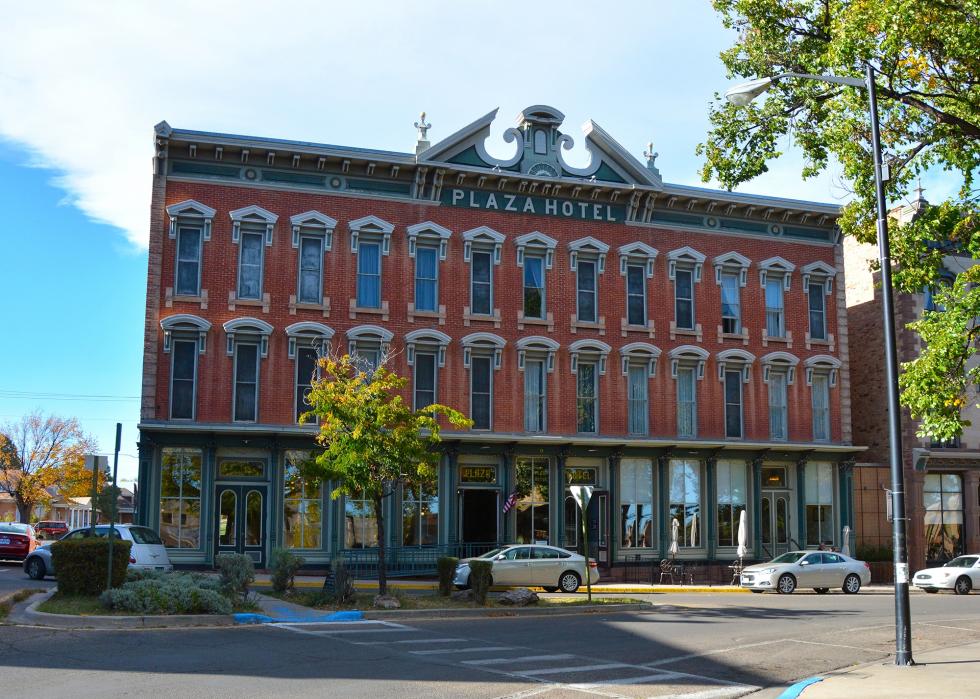 KeanoManu // Wikimedia Commons
#18. San Miguel County
– Average Commute Time: 19.9 minutes
— 2.8 minutes shorter than state average – Workers with 60+ minute commute: 5.8%
– Left for work from 12 a.m. to 6 a.m. 8.4%
– Worked outside county of residence: 19.7%
– Means of transportation: drove alone (70.7%), carpooled (12.4%), walked to work (4.6%), public transportation (1.1%), worked from home (10.0%)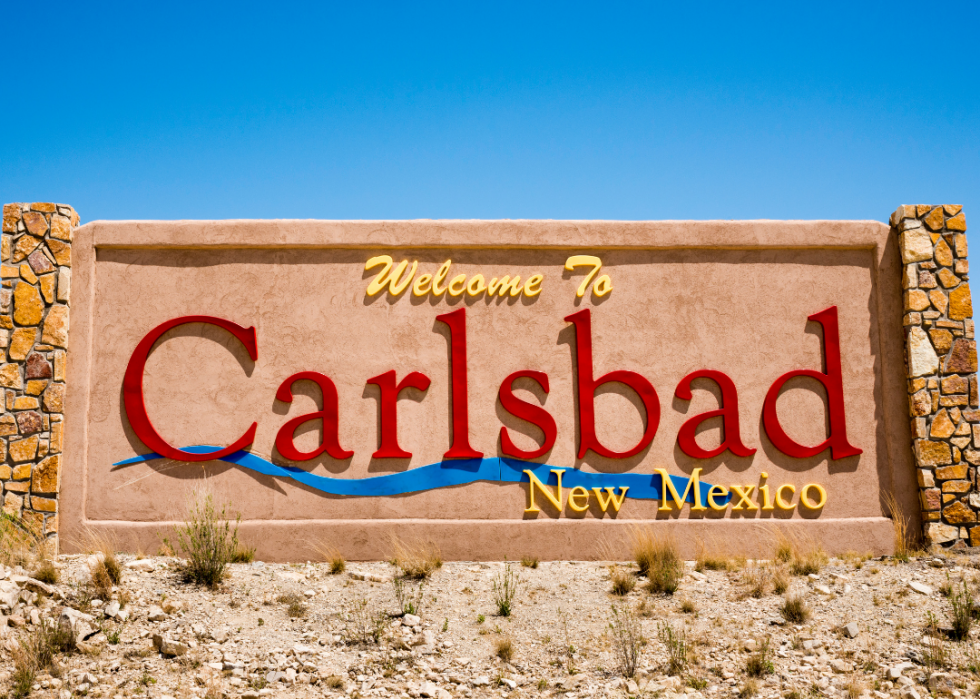 #17. Eddy County
– Average Commute Time: 20.1 minutes
— 2.6 minutes shorter than state average – Workers with 60+ minute commute: 8.2%
– Left for work from 12 a.m. to 6 a.m. 23.3%
– Worked outside county of residence: 2.9%
– Means of transportation: drove alone (84.5%), carpooled (10.0%), walked to work (0.6%), public transportation (0.8%), worked from home (3.4%)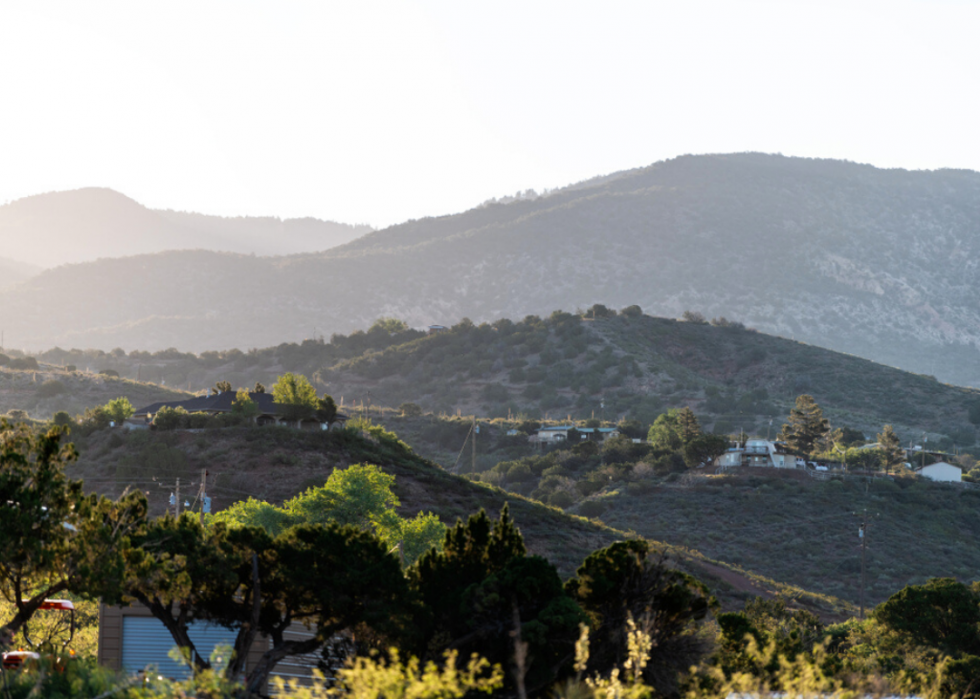 Kristi Blokhin // Shutterstock
#16. Otero County
– Average Commute Time: 20.6 minutes
— 2.1 minutes shorter than state average – Workers with 60+ minute commute: 6.5%
– Left for work from 12 a.m. to 6 a.m. 13.2%
– Worked outside county of residence: 6.9%
– Means of transportation: drove alone (81.5%), carpooled (9.7%), walked to work (2.9%), public transportation (0.4%), worked from home (4.1%)
Lochaven // Wikimedia Commons
#15. Taos County
– Average Commute Time: 21.5 minutes
— 1.2 minutes shorter than state average – Workers with 60+ minute commute: 8.6%
– Left for work from 12 a.m. to 6 a.m. 7.6%
– Worked outside county of residence: 7.0%
– Means of transportation: drove alone (70.6%), carpooled (10.6%), walked to work (2.8%), public transportation (1.4%), worked from home (12.6%)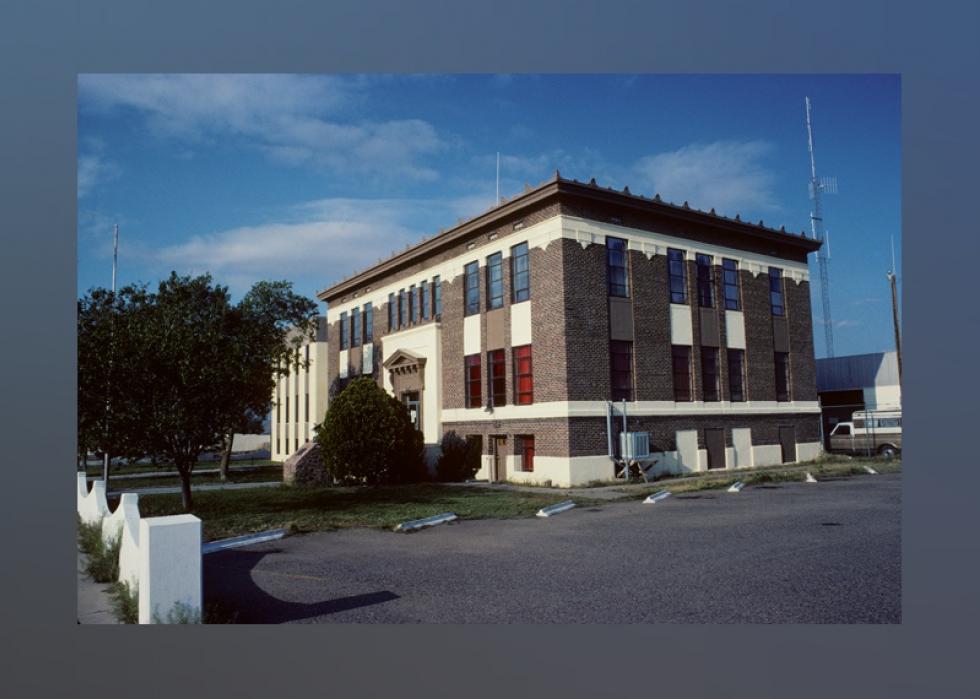 Calvin Beale // Wikimedia Commons
#14. Hidalgo County
– Average Commute Time: 21.5 minutes
— 1.2 minutes shorter than state average – Workers with 60+ minute commute: 9.5%
– Left for work from 12 a.m. to 6 a.m. 14.9%
– Worked outside county of residence: 7.2%
– Means of transportation: drove alone (72.1%), carpooled (16.2%), walked to work (3.3%), public transportation (0.0%), worked from home (6.6%)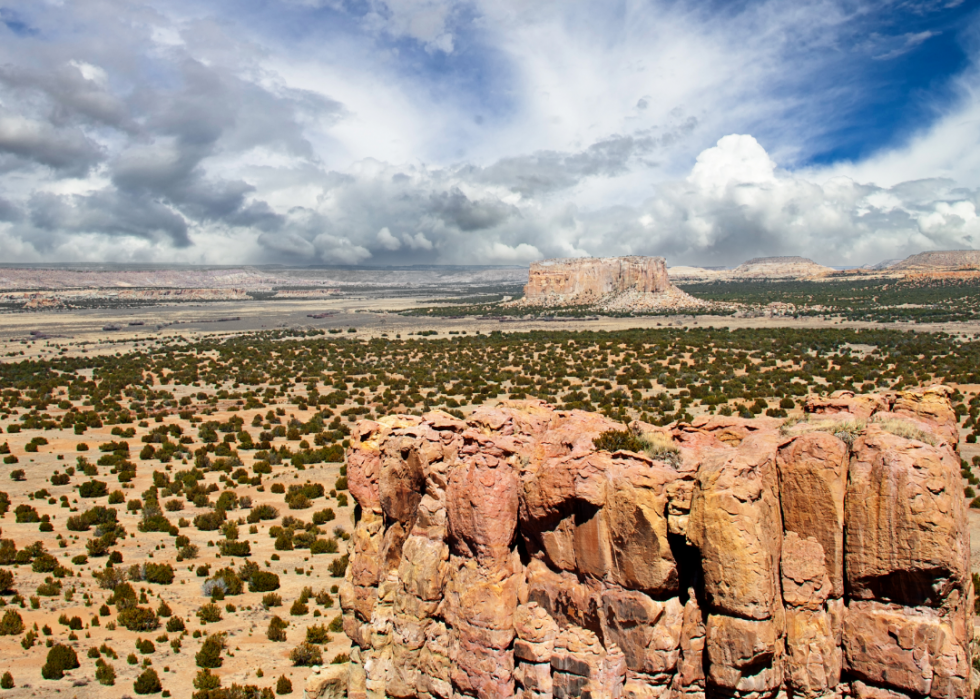 #13. Cibola County
– Average Commute Time: 21.9 minutes
— 0.8 minutes shorter than state average – Workers with 60+ minute commute: 9.1%
– Left for work from 12 a.m. to 6 a.m. 13.0%
– Worked outside county of residence: 16.1%
– Means of transportation: drove alone (76.8%), carpooled (7.9%), walked to work (2.5%), public transportation (0.8%), worked from home (7.2%)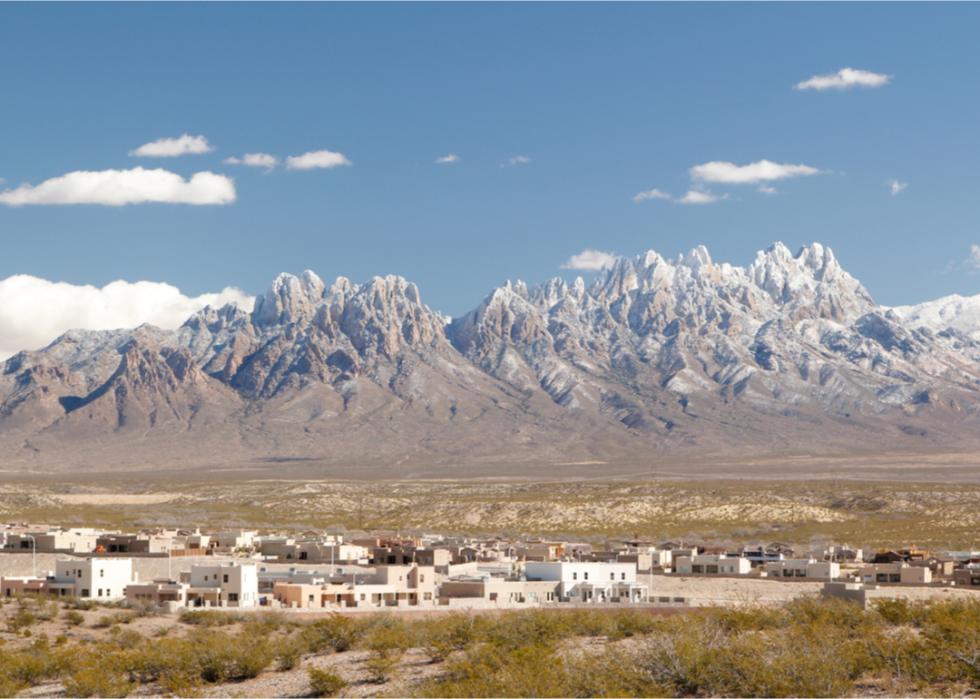 David Langford // Shutterstock
#12. Doña Ana County
– Average Commute Time: 22.5 minutes
— 0.2 minutes shorter than state average – Workers with 60+ minute commute: 6.2%
– Left for work from 12 a.m. to 6 a.m. 13.2%
– Worked outside county of residence: 2.7%
– Means of transportation: drove alone (79.2%), carpooled (11.2%), walked to work (1.8%), public transportation (0.4%), worked from home (5.6%)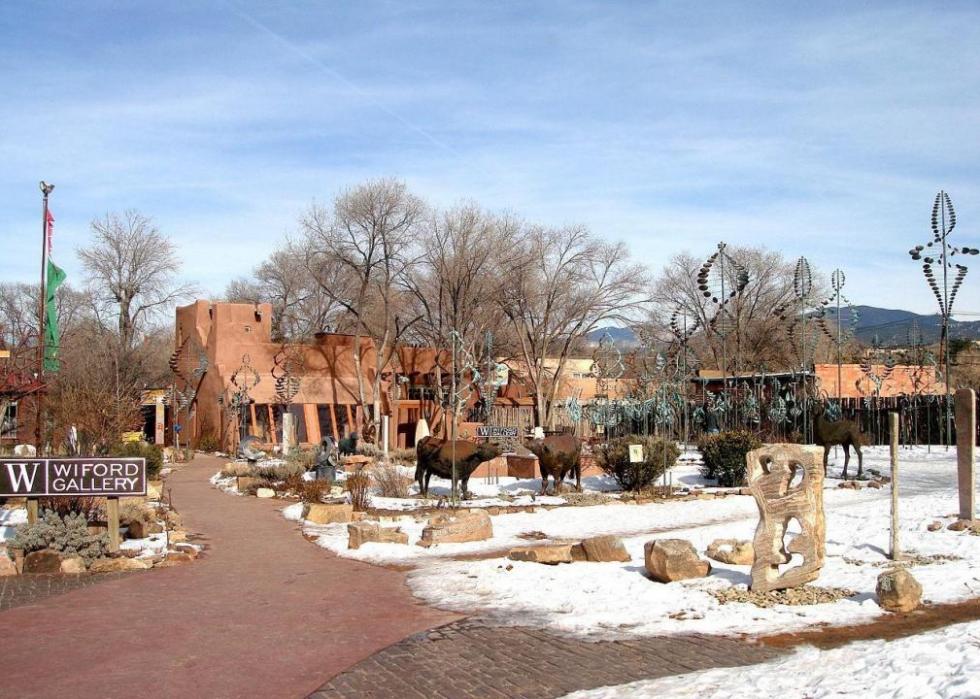 M.Bucka // Wikimedia Commons
#11. Bernalillo County
– Average Commute Time: 22.6 minutes
— 0.1 minutes shorter than state average – Workers with 60+ minute commute: 4.5%
– Left for work from 12 a.m. to 6 a.m. 10.5%
– Worked outside county of residence: 6.2%
– Means of transportation: drove alone (78.8%), carpooled (9.4%), walked to work (1.7%), public transportation (1.5%), worked from home (6.7%)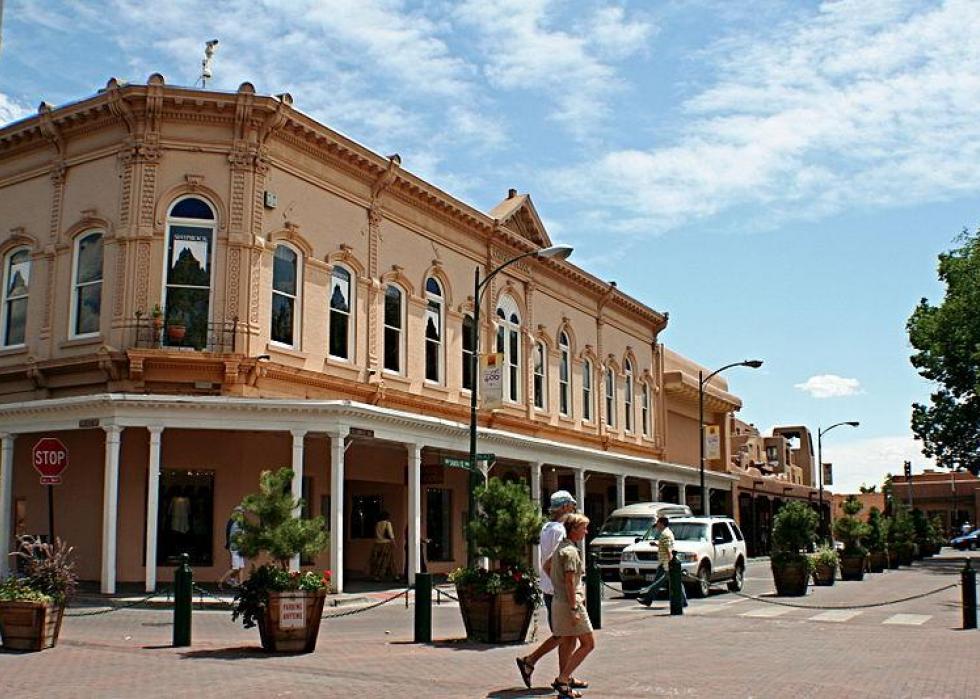 #10. Santa Fe County
– Average Commute Time: 22.8 minutes
— 0.1 minutes longer than state average – Workers with 60+ minute commute: 5.4%
– Left for work from 12 a.m. to 6 a.m. 7.7%
– Worked outside county of residence: 14.4%
– Means of transportation: drove alone (77.0%), carpooled (9.0%), walked to work (1.8%), public transportation (0.9%), worked from home (10.1%)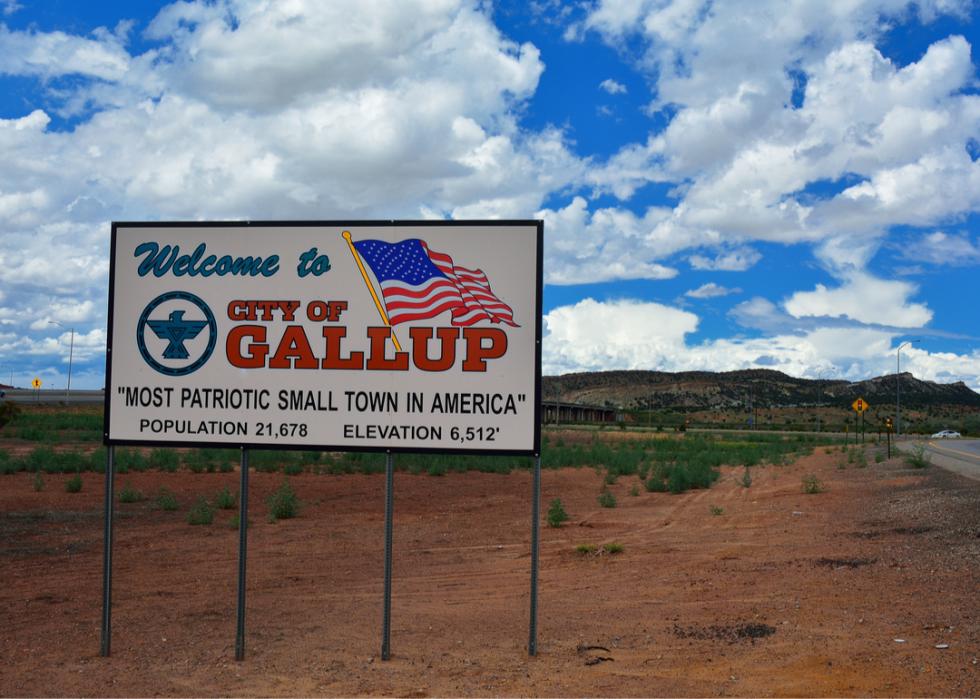 StockPhotoAstur // Shutterstock
#9. McKinley County
– Average Commute Time: 23.2 minutes
— 0.5 minutes longer than state average – Workers with 60+ minute commute: 8.0%
– Left for work from 12 a.m. to 6 a.m. 11.8%
– Worked outside county of residence: 5.5%
– Means of transportation: drove alone (73.6%), carpooled (9.4%), walked to work (4.0%), public transportation (1.6%), worked from home (10.2%)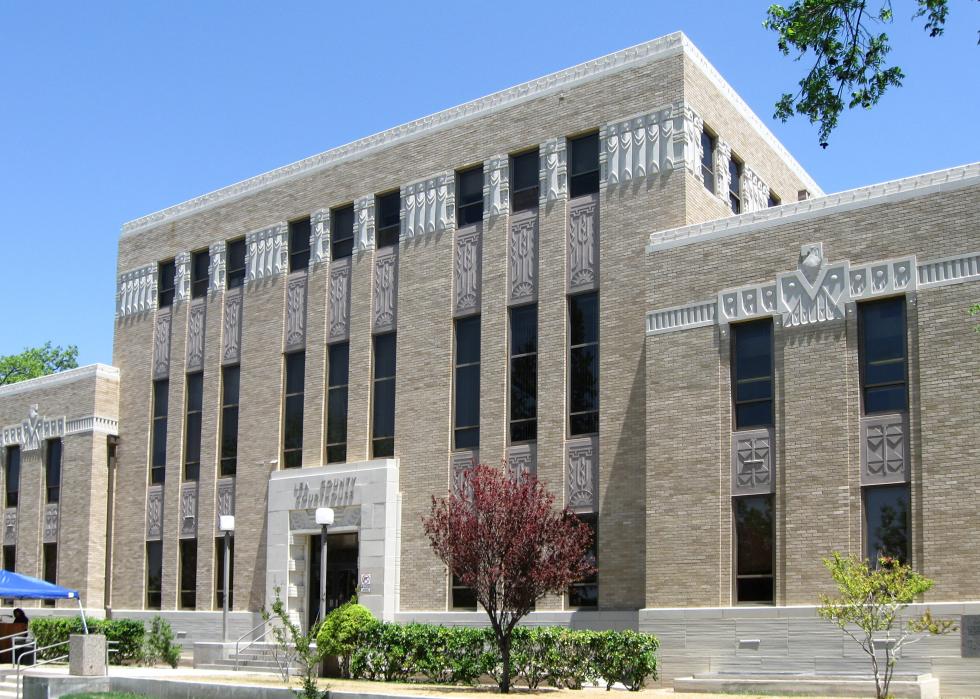 AllenS // Wikimedia Commons
#8. Lea County
– Average Commute Time: 23.6 minutes
— 0.9 minutes longer than state average – Workers with 60+ minute commute: 12.3%
– Left for work from 12 a.m. to 6 a.m. 27.3%
– Worked outside county of residence: 2.1%
– Means of transportation: drove alone (82.6%), carpooled (13.0%), walked to work (0.9%), public transportation (0.0%), worked from home (2.8%)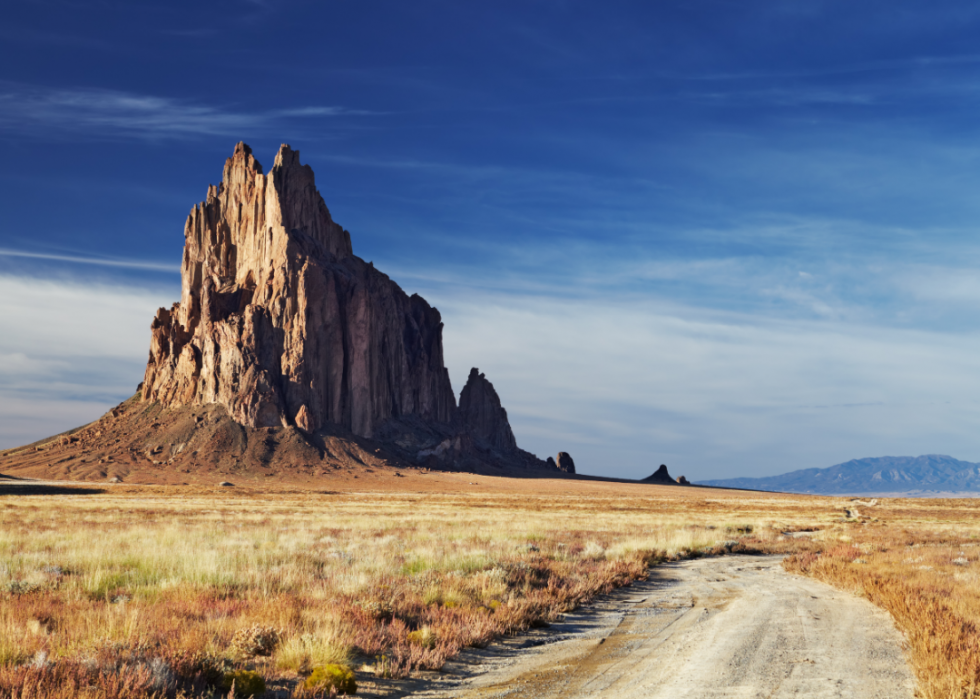 #7. San Juan County
– Average Commute Time: 24.3 minutes
— 1.6 minutes longer than state average – Workers with 60+ minute commute: 8.0%
– Left for work from 12 a.m. to 6 a.m. 17.4%
– Worked outside county of residence: 2.2%
– Means of transportation: drove alone (84.3%), carpooled (9.4%), walked to work (2.3%), public transportation (0.3%), worked from home (3.1%)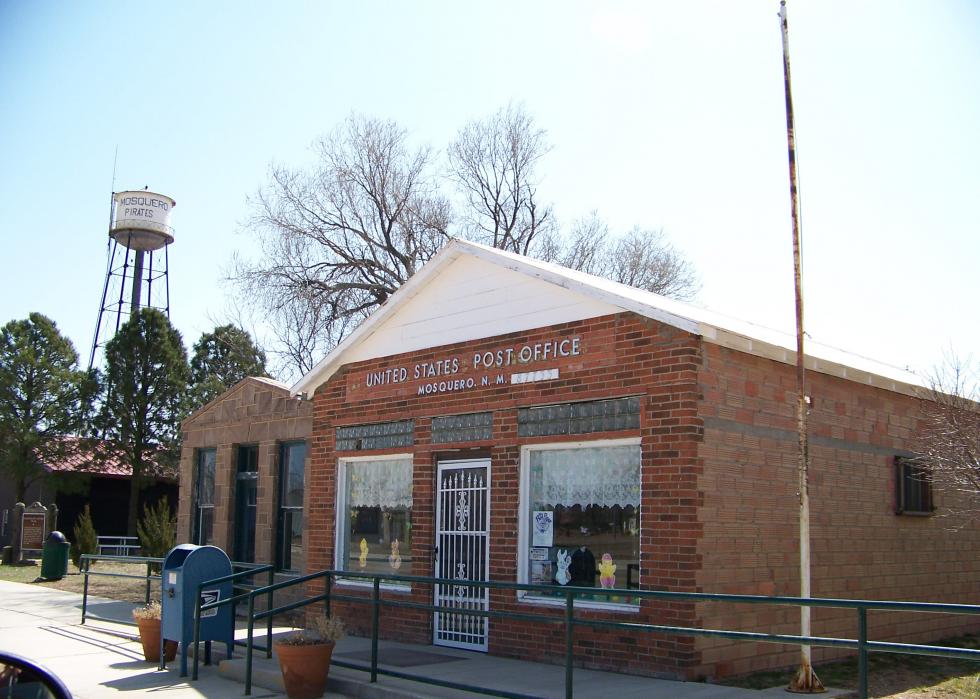 Vacaypicts // Wikimedia Commons
#6. Harding County
– Average Commute Time: 28 minutes
— 5.3 minutes longer than state average – Workers with 60+ minute commute: 18.5%
– Left for work from 12 a.m. to 6 a.m. 5.3%
– Worked outside county of residence: 35.0%
– Means of transportation: drove alone (78.2%), carpooled (6.3%), walked to work (6.8%), public transportation (0.0%), worked from home (8.3%)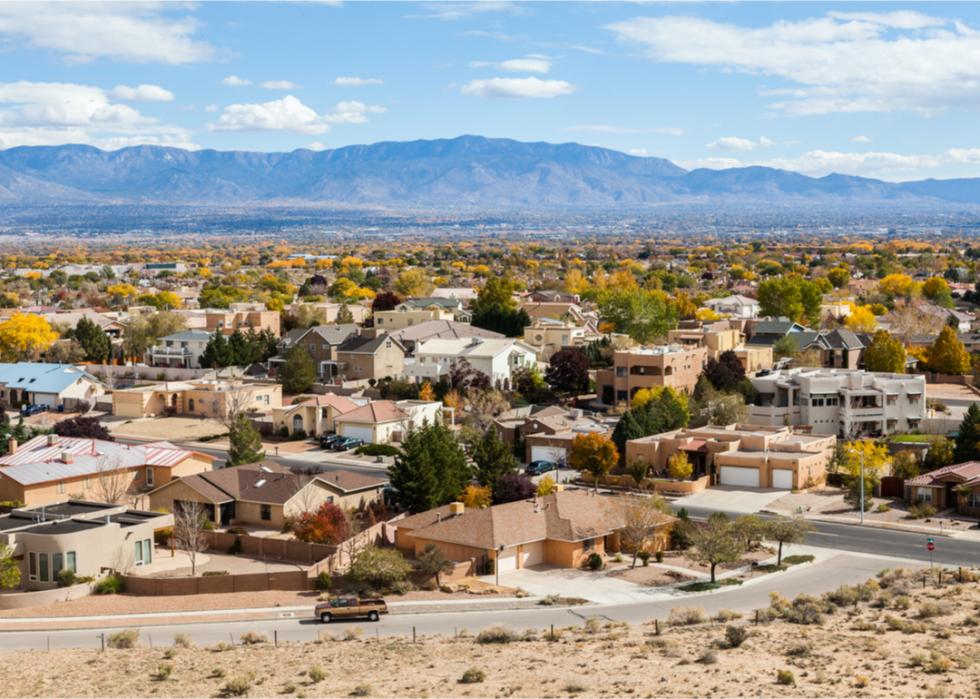 #5. Sandoval County
– Average Commute Time: 28.4 minutes
— 5.7 minutes longer than state average – Workers with 60+ minute commute: 7.8%
– Left for work from 12 a.m. to 6 a.m. 12.8%
– Worked outside county of residence: 51.1%
– Means of transportation: drove alone (76.9%), carpooled (11.8%), walked to work (1.4%), public transportation (0.8%), worked from home (7.6%)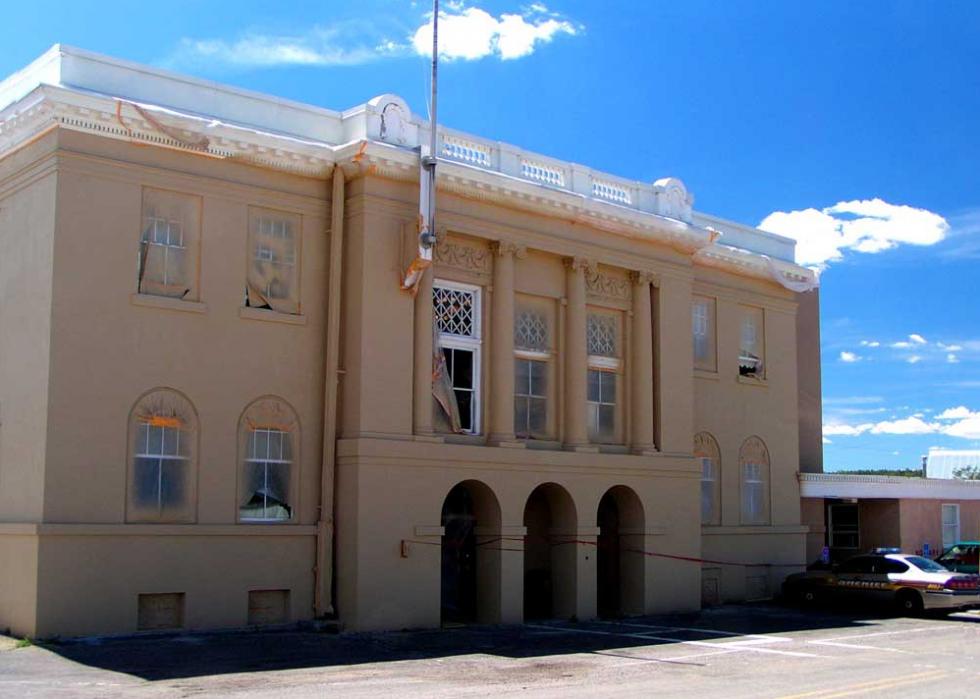 Carptrash // Wikimedia Commons
#4. Rio Arriba County
– Average Commute Time: 28.7 minutes
— 6.0 minutes longer than state average – Workers with 60+ minute commute: 8.5%
– Left for work from 12 a.m. to 6 a.m. 11.0%
– Worked outside county of residence: 44.3%
– Means of transportation: drove alone (84.7%), carpooled (7.1%), walked to work (2.2%), public transportation (0.8%), worked from home (3.8%)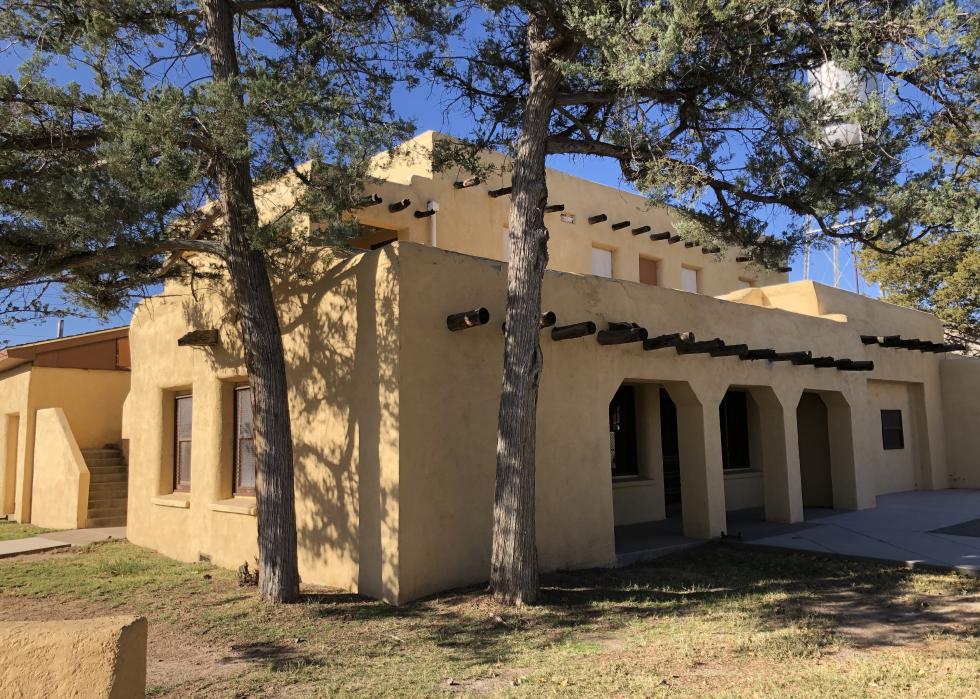 Drmccreedy // Wikimedia Commons
#3. Valencia County
– Average Commute Time: 29.2 minutes
— 6.5 minutes longer than state average – Workers with 60+ minute commute: 7.5%
– Left for work from 12 a.m. to 6 a.m. 16.6%
– Worked outside county of residence: 44.9%
– Means of transportation: drove alone (83.0%), carpooled (8.5%), walked to work (0.8%), public transportation (0.7%), worked from home (5.4%)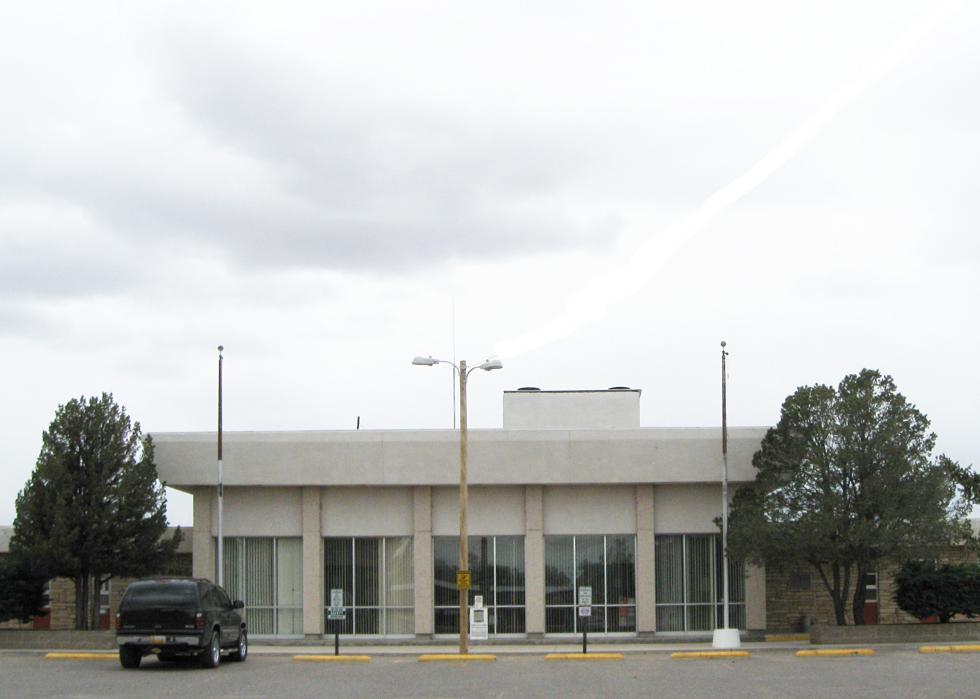 AllenS // Wikimedia Commons
#2. Torrance County
– Average Commute Time: 34.5 minutes
— 11.8 minutes longer than state average – Workers with 60+ minute commute: 23.1%
– Left for work from 12 a.m. to 6 a.m. 23.7%
– Worked outside county of residence: 52.8%
– Means of transportation: drove alone (75.7%), carpooled (6.8%), walked to work (2.6%), public transportation (0.1%), worked from home (13.0%)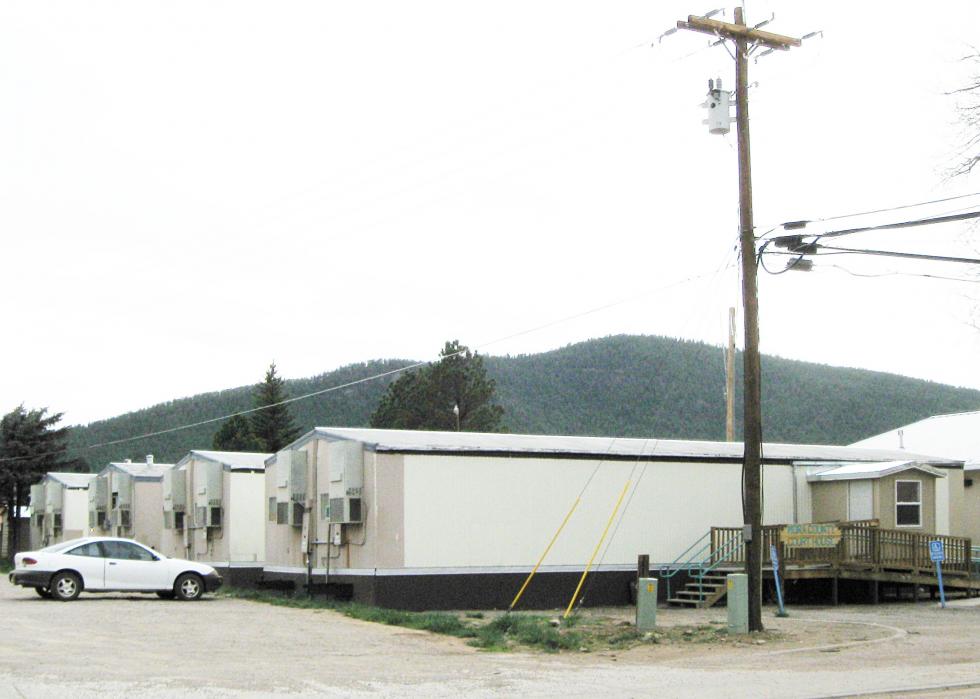 AllenS // Wikimedia Commons
#1. Mora County
– Average Commute Time: 51.3 minutes
— 28.6 minutes longer than state average – Workers with 60+ minute commute: 36.3%
– Left for work from 12 a.m. to 6 a.m. 5.6%
– Worked outside county of residence: 59.0%
– Means of transportation: drove alone (65.1%), carpooled (23.3%), walked to work (5.1%), public transportation (0.0%), worked from home (6.4%)