Sandoval County (Rio Rancho) is number 17 among the state's counties with the highest COVID-19 infection rates, according to a report by Stacker. Neighboring Bernalillo County (Albuquerque) is 19.
Sandoval County numbers are declining,  however, the report said. Indeed, the county numbers per 100,000 residents is 5 percent lower than the average rate of infections in New Mexico.
Deaths per 100,000 were 19 percent lower than the number in New Mexico, the report said.
Roosevelt County had the highest rate, followed by Quay and McKinley for the state's top three.
For a look at all the state's county and infection rates, read on.
The vaccine deployment in December 2020 signaled a turning point in the COVID-19 pandemic. By the
end of May 2021
, 40% of the U.S. population was fully vaccinated. But as vaccination rates lagged over the summer, new surges of COVID-19 came, including Delta in the summer of 2021, and now the Omicron variant, which comprises the 
majority of cases
 in the U.S.
Researchers around the world have reported that Omicron is more transmissible than Delta, making breakthrough and repeat infections more likely.
The United States as of Aug. 10 reached over 1 million COVID-19-related deaths and 92.4 million COVID-19 cases, according to Johns Hopkins University. Currently, 67.2% of the population is fully vaccinated, and 48.2% of vaccinated people have received booster doses.
Stacker compiled a list of the counties with highest COVID-19 infection rates in New Mexico using data from the U.S. Department of Health & Human Services and vaccination data from Covid Act Now. Counties are ranked by the highest infection rate per 100,000 residents within the week leading up to Aug. 9, 2022. Cumulative cases per 100,000 served as a tiebreaker.
Keep reading to see whether your county ranks among the highest COVID-19 infection rates in your state.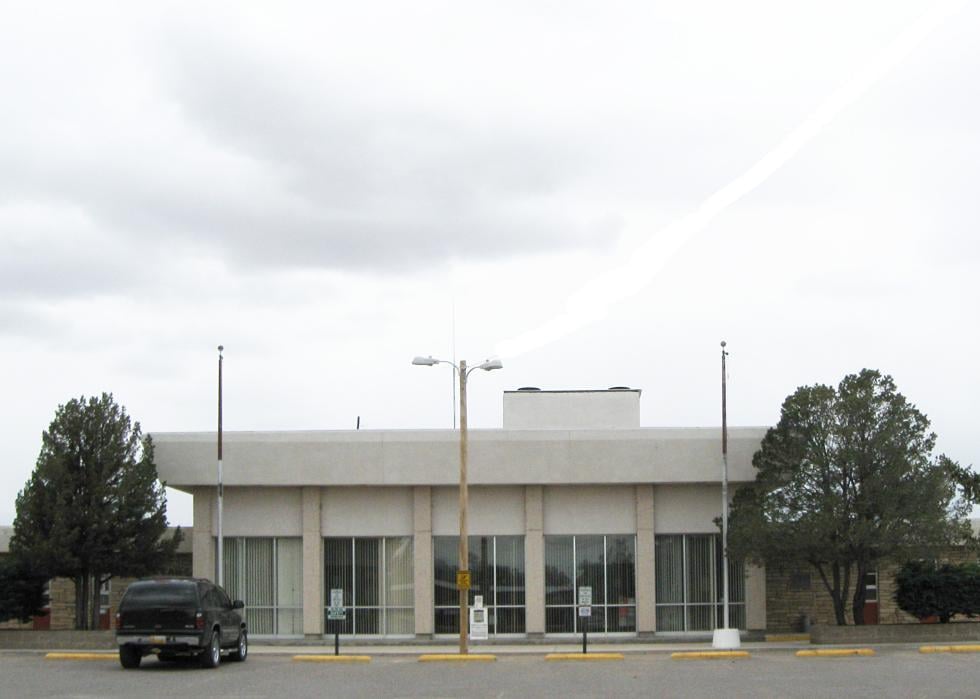 1 / 33
AllenS // Wikimedia Commons
#33. Torrance County, NM
– New cases per 100k in the past week: 65 (10 new cases, -58% change from previous week)
– Cumulative cases per 100k: 19,300 (2,984 total cases)
— 32.4% less cases per 100k residents than New Mexico
– Cumulative deaths per 100k: 382 (59 total deaths)
— 3.3% less deaths per 100k residents than New Mexico
– Population that is fully vaccinated: not available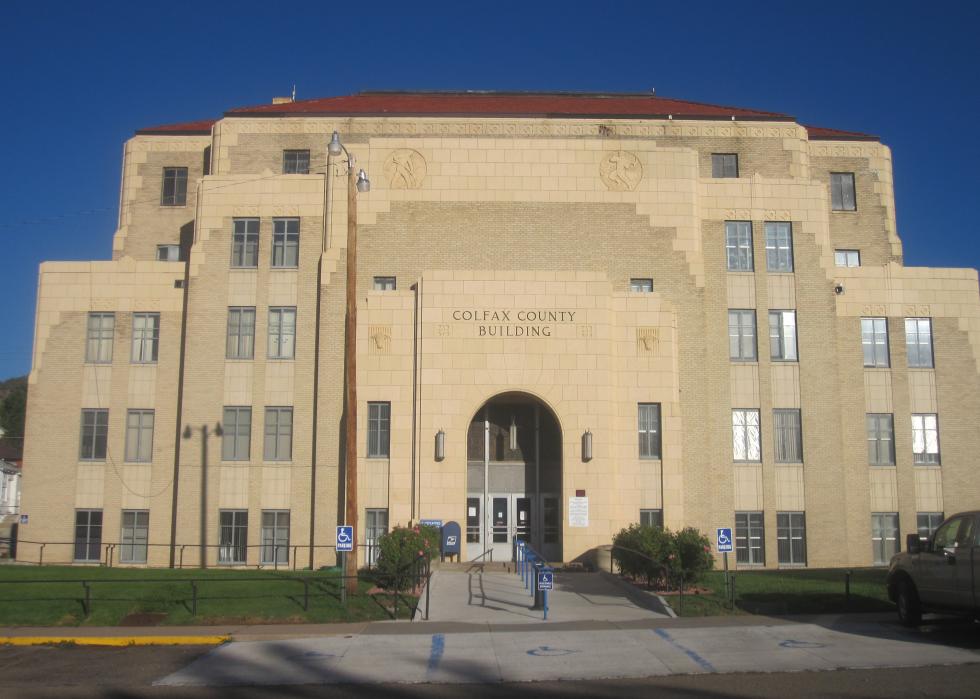 2 / 33
Billy Hathorn // Wikimedia Commons
#32. Colfax County, NM
– New cases per 100k in the past week: 109 (13 new cases, +8% change from previous week)
– Cumulative cases per 100k: 21,698 (2,591 total cases)
— 24.0% less cases per 100k residents than New Mexico
– Cumulative deaths per 100k: 561 (67 total deaths)
— 42.0% more deaths per 100k residents than New Mexico
– Population that is fully vaccinated: not available
3 / 33
Lochaven // Wikimedia Commons
#31. Taos County, NM
– New cases per 100k in the past week: 128 (42 new cases, -9% change from previous week)
– Cumulative cases per 100k: 19,439 (6,361 total cases)
— 31.9% less cases per 100k residents than New Mexico
– Cumulative deaths per 100k: 296 (97 total deaths)
— 25.1% less deaths per 100k residents than New Mexico
– Population that is fully vaccinated: not available
4 / 33
#30. Socorro County, NM
– New cases per 100k in the past week: 132 (22 new cases, -31% change from previous week)
– Cumulative cases per 100k: 25,576 (4,255 total cases)
— 10.4% less cases per 100k residents than New Mexico
– Cumulative deaths per 100k: 565 (94 total deaths)
— 43.0% more deaths per 100k residents than New Mexico
– Population that is fully vaccinated: not available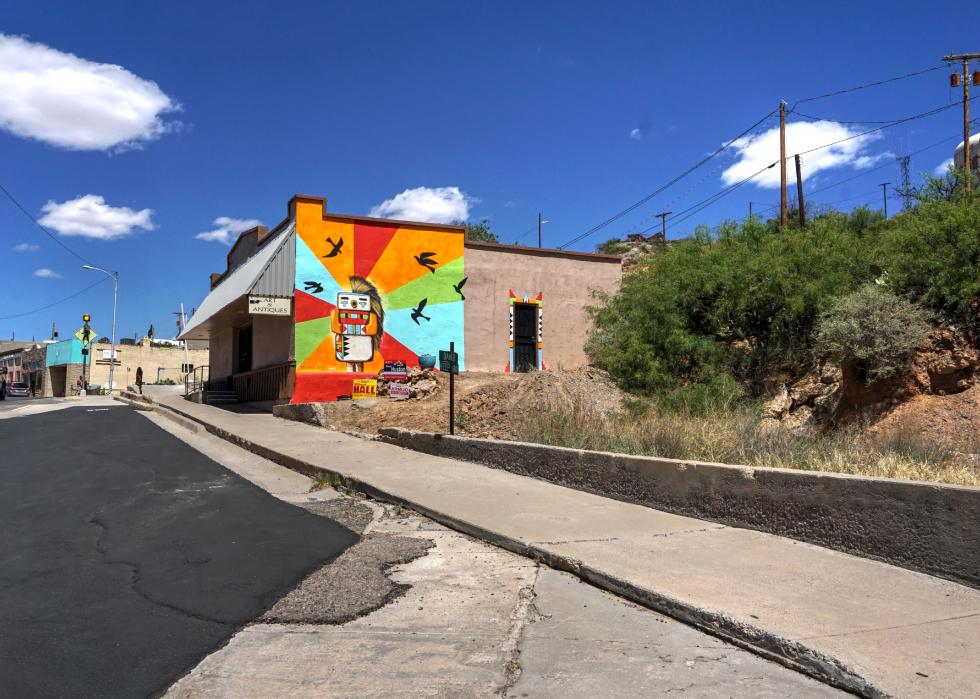 5 / 33
psyberartist // Wikimedia Commons
#29. Sierra County, NM
– New cases per 100k in the past week: 139 (15 new cases, +15% change from previous week)
– Cumulative cases per 100k: 21,388 (2,308 total cases)
— 25.1% less cases per 100k residents than New Mexico
– Cumulative deaths per 100k: 769 (83 total deaths)
— 94.7% more deaths per 100k residents than New Mexico
– Population that is fully vaccinated: not available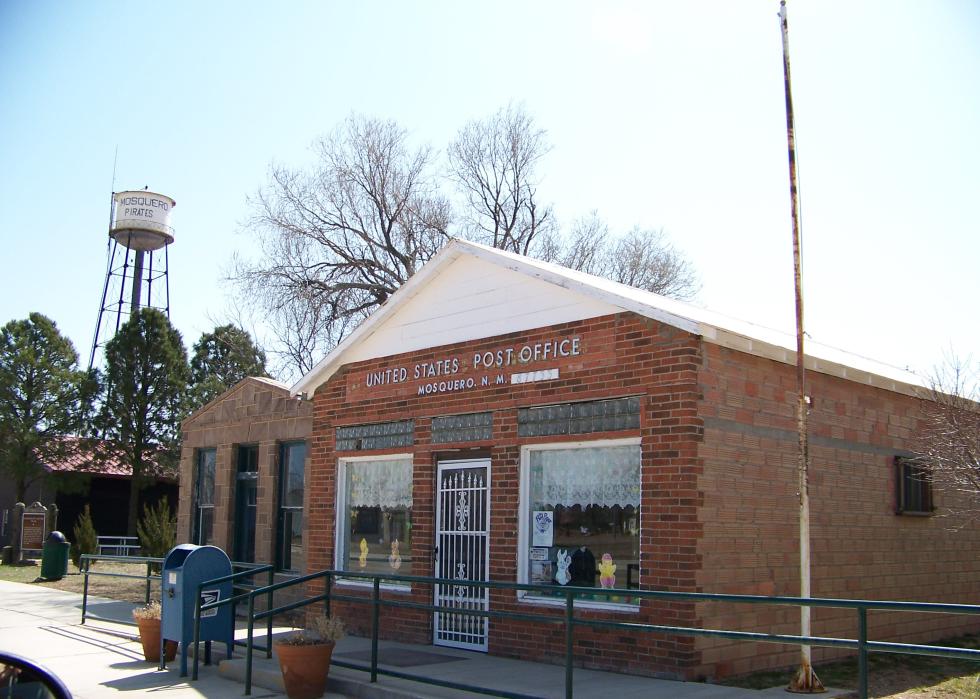 6 / 33
Vacaypicts // Wikimedia Commons
#28. Harding County, NM
– New cases per 100k in the past week: 160 (1 new cases, 0% change from previous week)
– Cumulative cases per 100k: 14,560 (91 total cases)
— 49.0% less cases per 100k residents than New Mexico
– Cumulative deaths per 100k: 640 (4 total deaths)
— 62.0% more deaths per 100k residents than New Mexico
– Population that is fully vaccinated: not available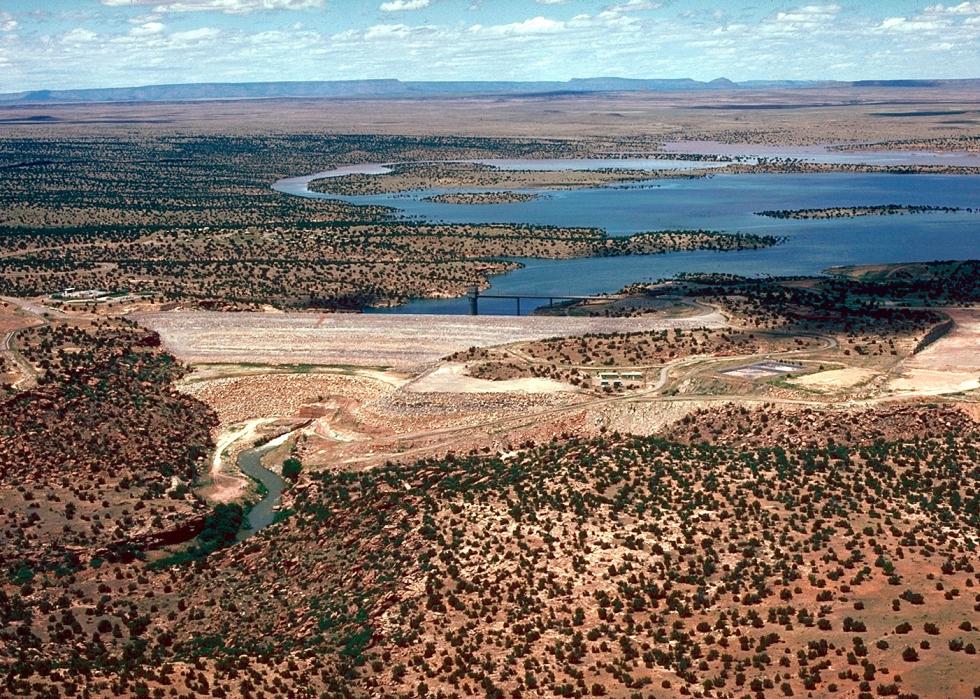 7 / 33
U.S. Army Corps of Engineers // Wikimedia Commons
#27. Guadalupe County, NM
– New cases per 100k in the past week: 163 (7 new cases, -42% change from previous week)
– Cumulative cases per 100k: 27,837 (1,197 total cases)
— 2.5% less cases per 100k residents than New Mexico
– Cumulative deaths per 100k: 395 (17 total deaths)
— 0.0% less deaths per 100k residents than New Mexico
– Population that is fully vaccinated: not available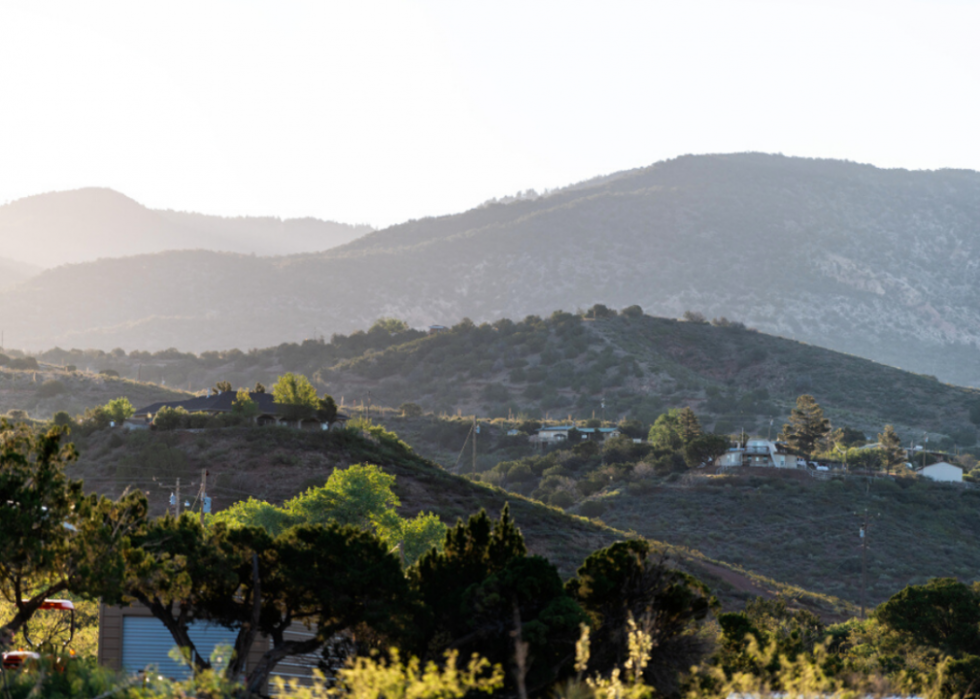 8 / 33
Kristi Blokhin // Shutterstock
#26. Otero County, NM
– New cases per 100k in the past week: 176 (119 new cases, -27% change from previous week)
– Cumulative cases per 100k: 22,025 (14,865 total cases)
— 22.8% less cases per 100k residents than New Mexico
– Cumulative deaths per 100k: 301 (203 total deaths)
— 23.8% less deaths per 100k residents than New Mexico
– Population that is fully vaccinated: not available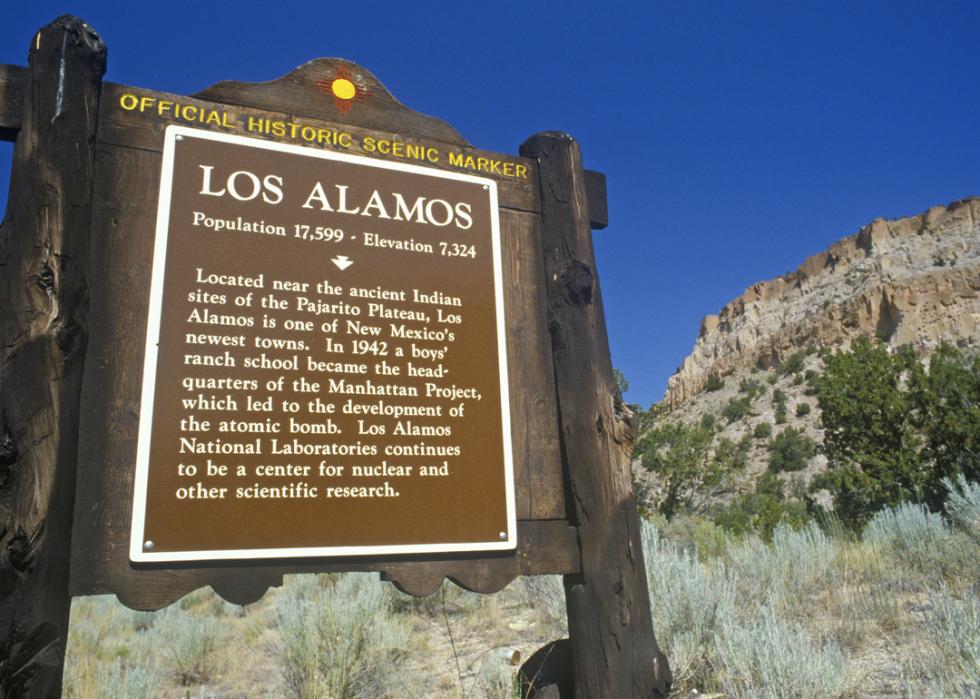 9 / 33
Joseph Sohm // Shutterstock
#25. Los Alamos County, NM
– New cases per 100k in the past week: 181 (35 new cases, -30% change from previous week)
– Cumulative cases per 100k: 20,667 (4,003 total cases)
— 27.6% less cases per 100k residents than New Mexico
– Cumulative deaths per 100k: 103 (20 total deaths)
— 73.9% less deaths per 100k residents than New Mexico
– Population that is fully vaccinated: not available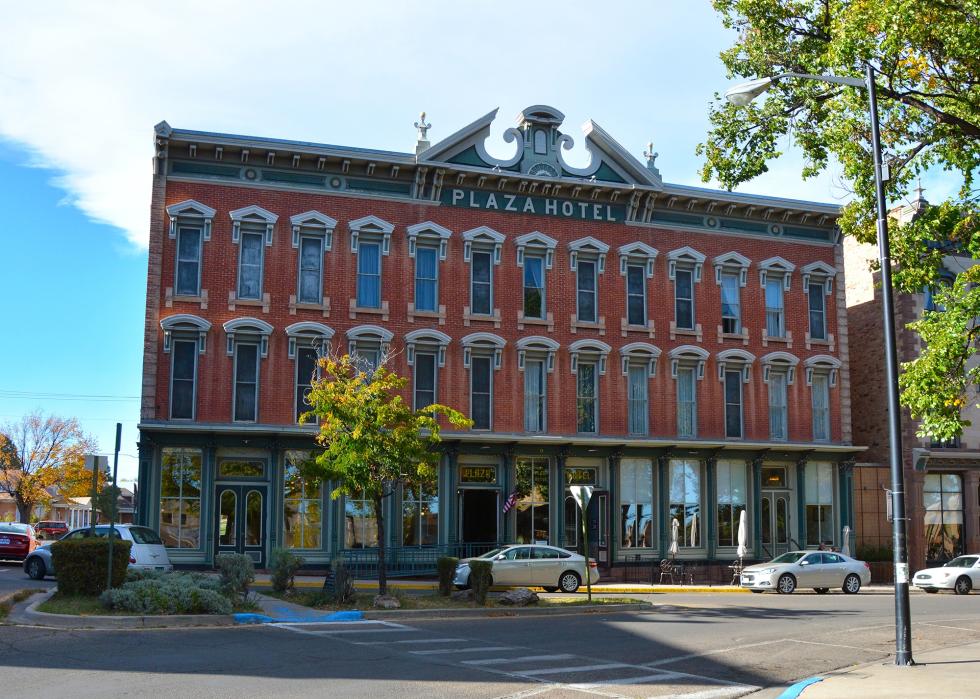 10 / 33
KeanoManu // Wikimedia Commons
#24. San Miguel County, NM
– New cases per 100k in the past week: 194 (53 new cases, +8% change from previous week)
– Cumulative cases per 100k: 25,050 (6,833 total cases)
— 12.2% less cases per 100k residents than New Mexico
– Cumulative deaths per 100k: 264 (72 total deaths)
— 33.2% less deaths per 100k residents than New Mexico
– Population that is fully vaccinated: not available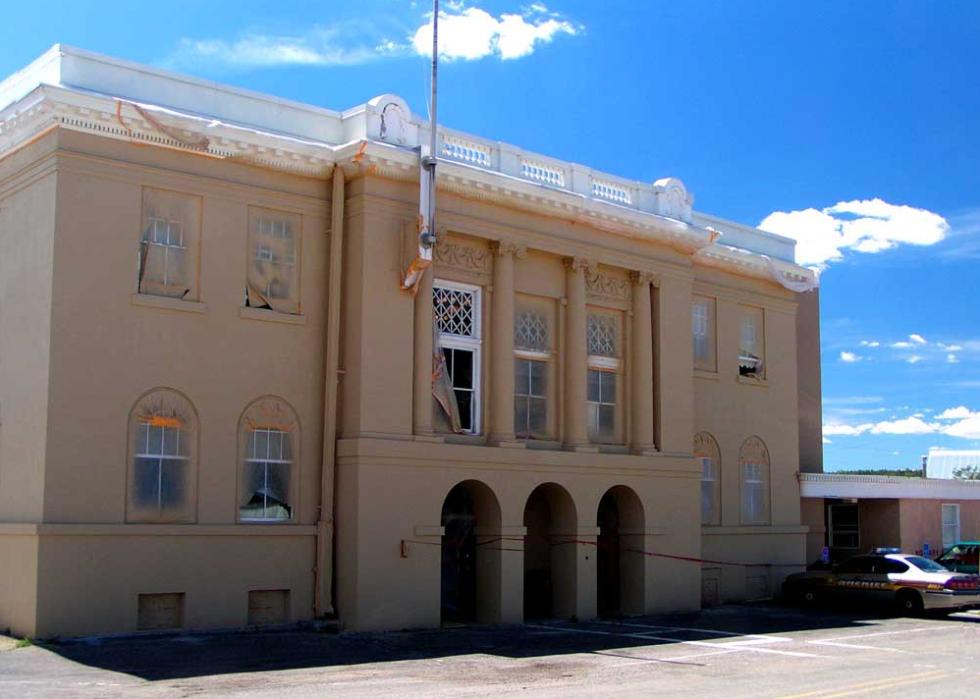 11 / 33
Carptrash // Wikimedia Commons
#23. Rio Arriba County, NM
– New cases per 100k in the past week: 213 (83 new cases, -29% change from previous week)
– Cumulative cases per 100k: 29,943 (11,654 total cases)
— 4.9% more cases per 100k residents than New Mexico
– Cumulative deaths per 100k: 373 (145 total deaths)
— 5.6% less deaths per 100k residents than New Mexico
– Population that is fully vaccinated: not available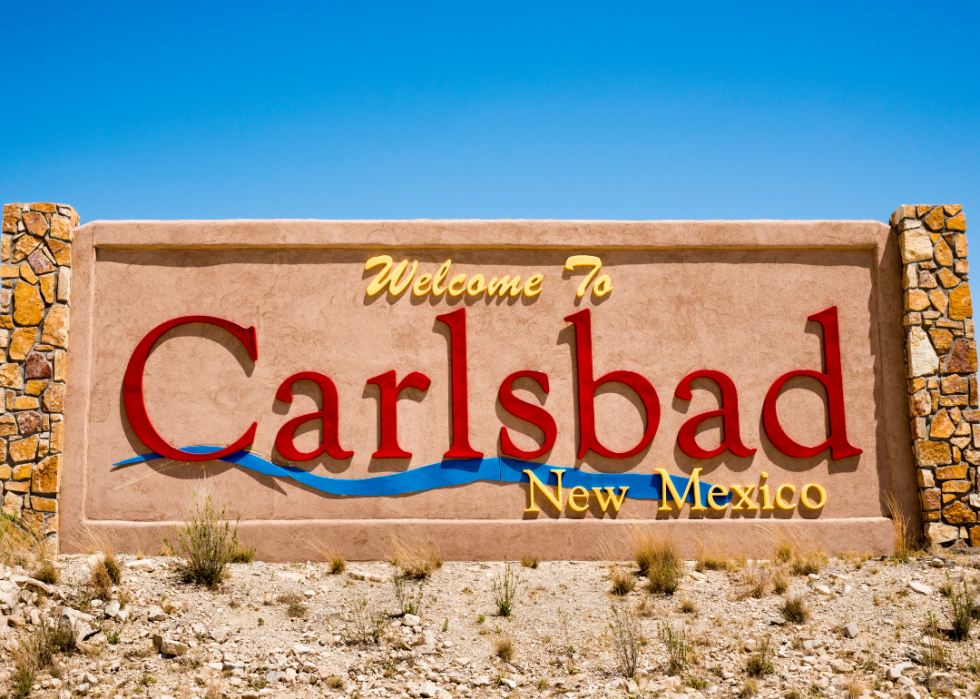 12 / 33
#22. Eddy County, NM
– New cases per 100k in the past week: 219 (128 new cases, -31% change from previous week)
– Cumulative cases per 100k: 31,105 (18,184 total cases)
— 9.0% more cases per 100k residents than New Mexico
– Cumulative deaths per 100k: 522 (305 total deaths)
— 32.2% more deaths per 100k residents than New Mexico
– Population that is fully vaccinated: not available
13 / 33
Wordbuilder // Wikimedia Commons
#21. Union County, NM
– New cases per 100k in the past week: 222 (9 new cases, +80% change from previous week)
– Cumulative cases per 100k: 20,892 (848 total cases)
— 26.8% less cases per 100k residents than New Mexico
– Cumulative deaths per 100k: 419 (17 total deaths)
— 6.1% more deaths per 100k residents than New Mexico
– Population that is fully vaccinated: not available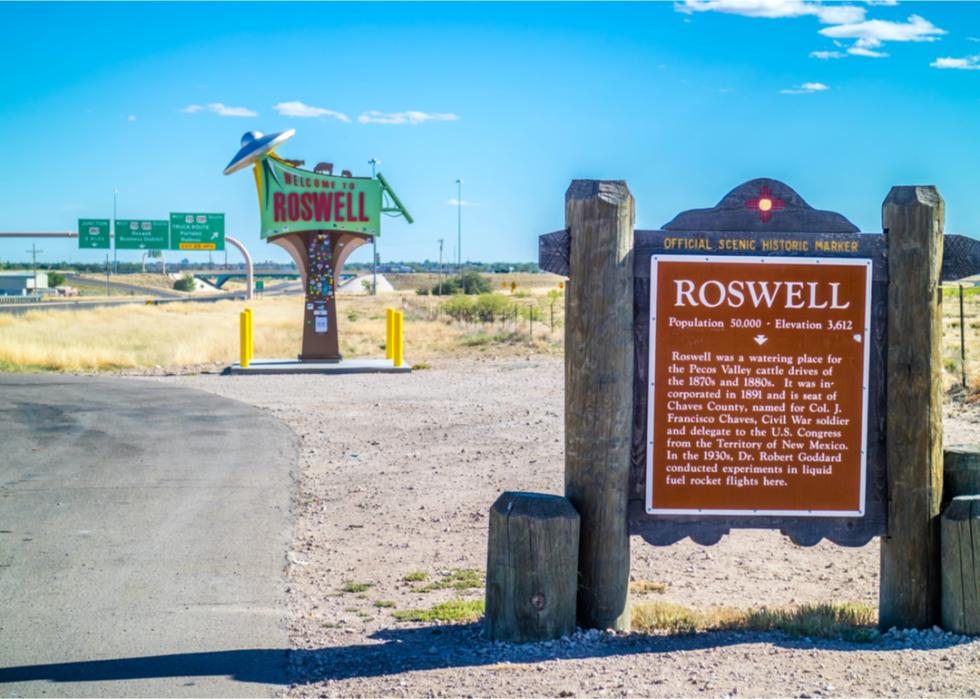 14 / 33
Cheri Alguire // Shutterstock
#20. Chaves County, NM
– New cases per 100k in the past week: 223 (144 new cases, -30% change from previous week)
– Cumulative cases per 100k: 35,492 (22,933 total cases)
— 24.4% more cases per 100k residents than New Mexico
– Cumulative deaths per 100k: 540 (349 total deaths)
— 36.7% more deaths per 100k residents than New Mexico
– Population that is fully vaccinated: not available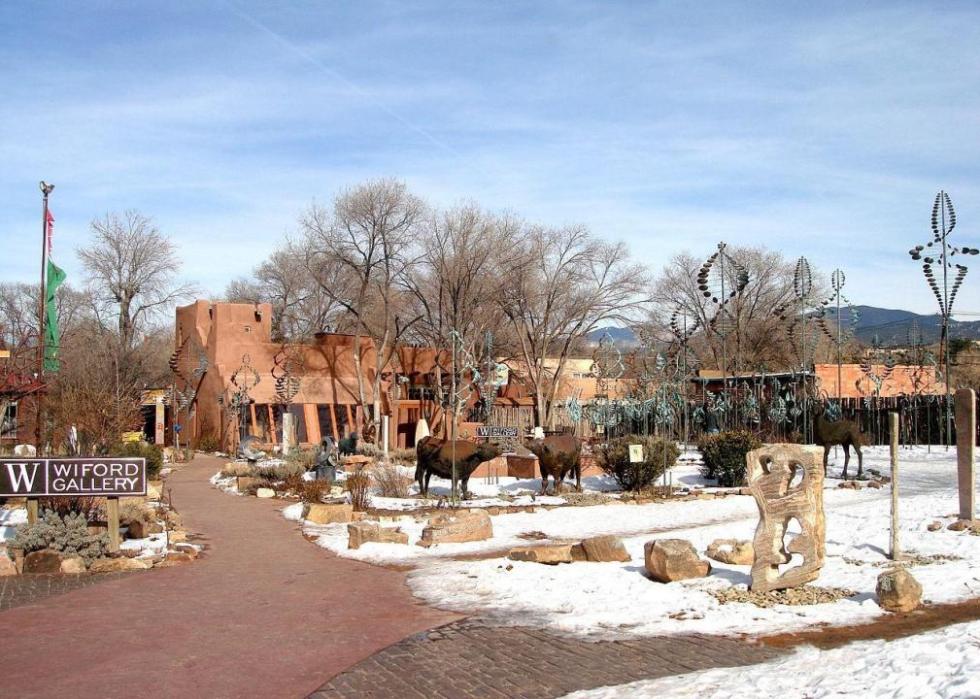 15 / 33
M.Bucka // Wikimedia Commons
#19. Bernalillo County, NM
– New cases per 100k in the past week: 227 (1,542 new cases, -13% change from previous week)
– Cumulative cases per 100k: 25,625 (174,025 total cases)
— 10.2% less cases per 100k residents than New Mexico
– Cumulative deaths per 100k: 298 (2,022 total deaths)
— 24.6% less deaths per 100k residents than New Mexico
– Population that is fully vaccinated: not available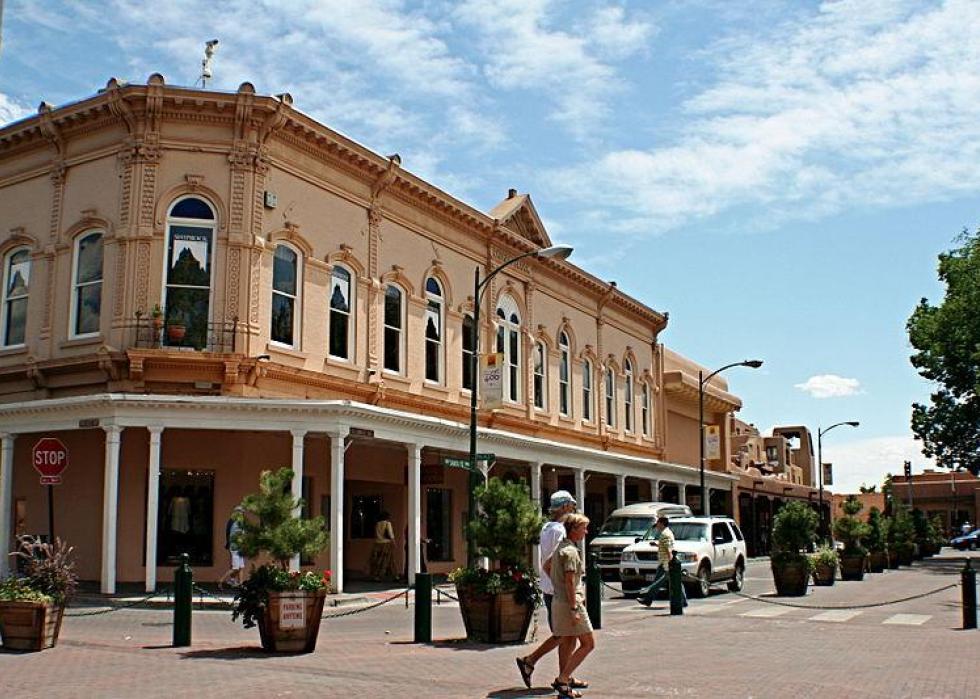 16 / 33
#18. Santa Fe County, NM
– New cases per 100k in the past week: 239 (360 new cases, -18% change from previous week)
– Cumulative cases per 100k: 23,679 (35,603 total cases)
— 17.0% less cases per 100k residents than New Mexico
– Cumulative deaths per 100k: 220 (331 total deaths)
— 44.3% less deaths per 100k residents than New Mexico
– Population that is fully vaccinated: not available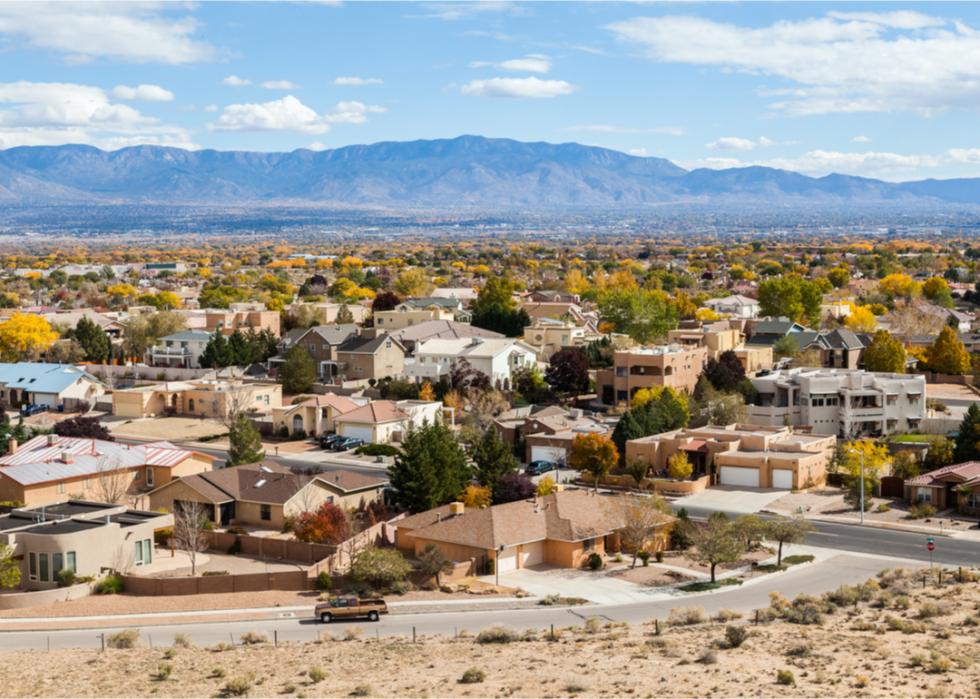 17 / 33
#17. Sandoval County, NM
– New cases per 100k in the past week: 243 (356 new cases, -15% change from previous week)
– Cumulative cases per 100k: 27,113 (39,788 total cases)
— 5.0% less cases per 100k residents than New Mexico
– Cumulative deaths per 100k: 320 (470 total deaths)
— 19.0% less deaths per 100k residents than New Mexico
– Population that is fully vaccinated: not available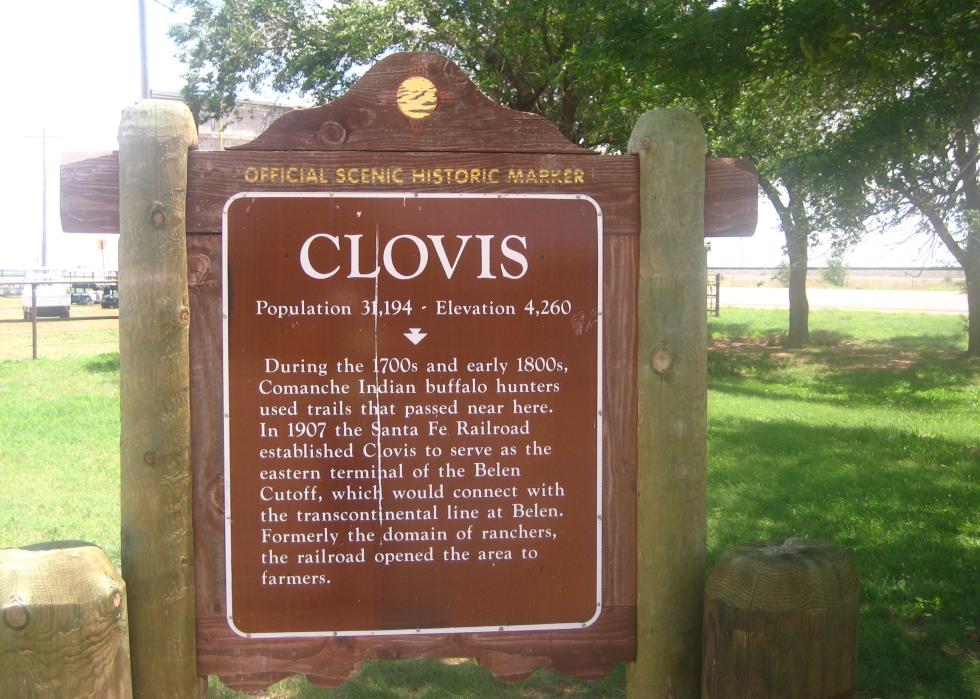 18 / 33
Billy Hathorn // Wikimedia Commons
#16. Curry County, NM
– New cases per 100k in the past week: 243 (119 new cases, -16% change from previous week)
– Cumulative cases per 100k: 28,608 (14,005 total cases)
— 0.2% more cases per 100k residents than New Mexico
– Cumulative deaths per 100k: 451 (221 total deaths)
— 14.2% more deaths per 100k residents than New Mexico
– Population that is fully vaccinated: not available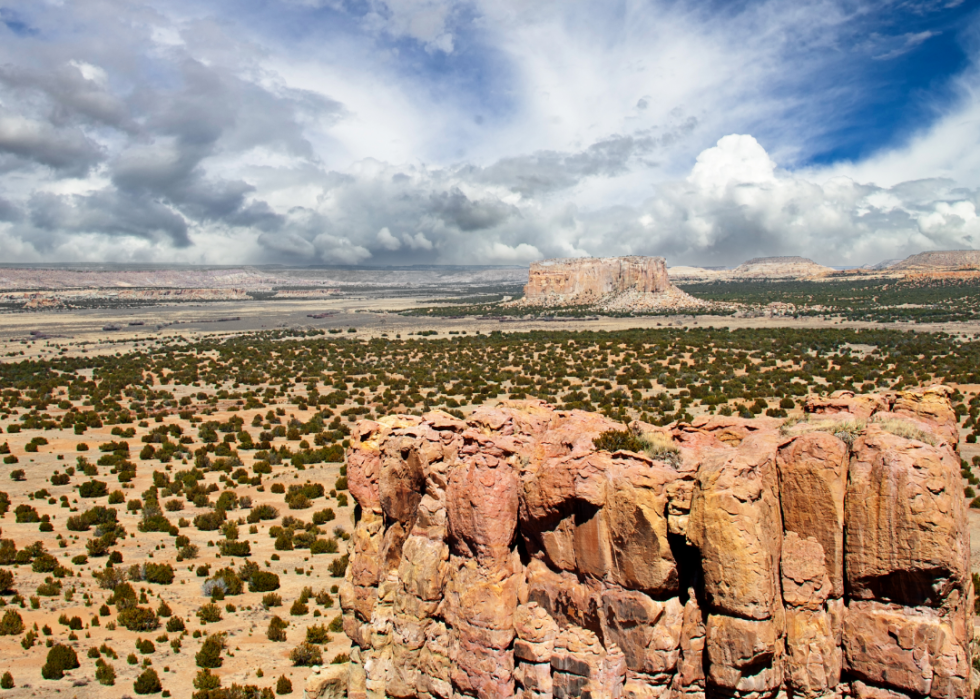 19 / 33
#15. Cibola County, NM
– New cases per 100k in the past week: 247 (66 new cases, -20% change from previous week)
– Cumulative cases per 100k: 31,037 (8,279 total cases)
— 8.8% more cases per 100k residents than New Mexico
– Cumulative deaths per 100k: 757 (202 total deaths)
— 91.6% more deaths per 100k residents than New Mexico
– Population that is fully vaccinated: not available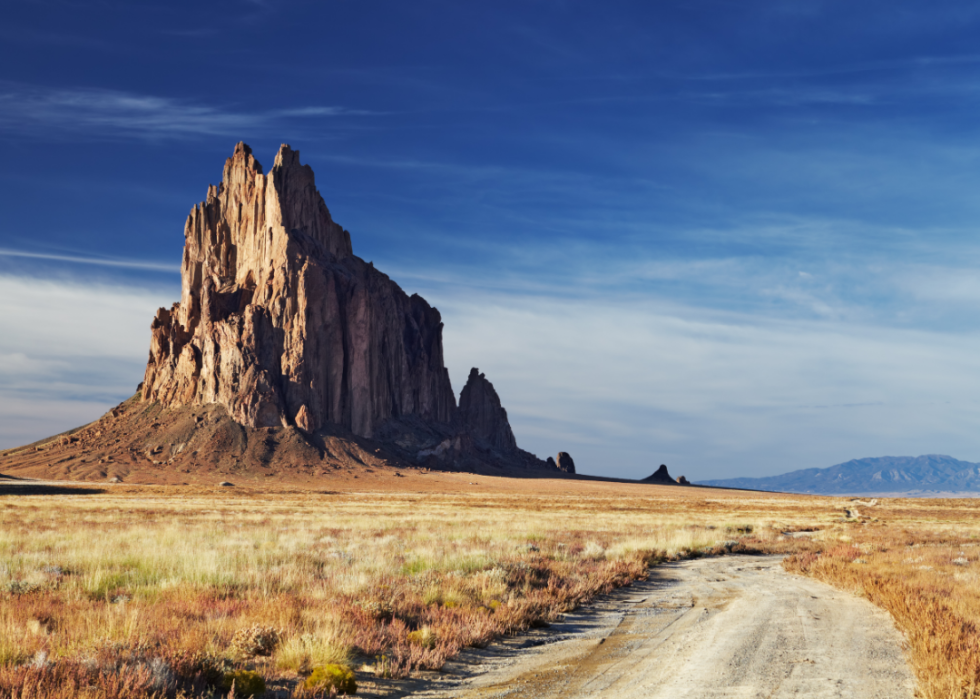 20 / 33
#14. San Juan County, NM
– New cases per 100k in the past week: 258 (320 new cases, -32% change from previous week)
– Cumulative cases per 100k: 37,099 (45,987 total cases)
— 30.0% more cases per 100k residents than New Mexico
– Cumulative deaths per 100k: 657 (814 total deaths)
— 66.3% more deaths per 100k residents than New Mexico
– Population that is fully vaccinated: not available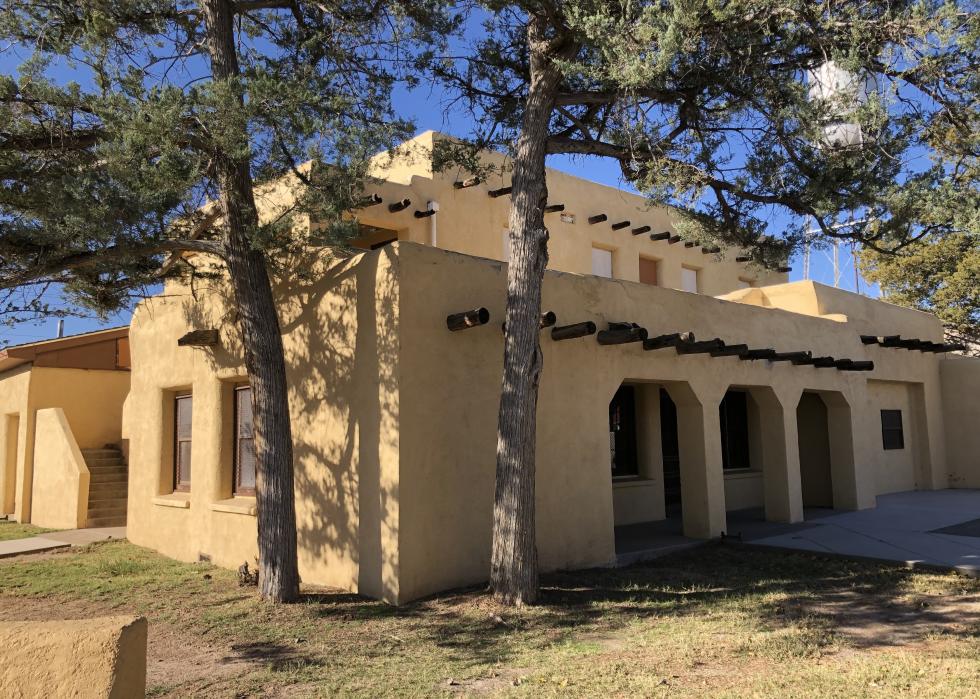 21 / 33
Drmccreedy // Wikimedia Commons
#13. Valencia County, NM
– New cases per 100k in the past week: 259 (199 new cases, -13% change from previous week)
– Cumulative cases per 100k: 27,807 (21,325 total cases)
— 2.6% less cases per 100k residents than New Mexico
– Cumulative deaths per 100k: 382 (293 total deaths)
— 3.3% less deaths per 100k residents than New Mexico
– Population that is fully vaccinated: not available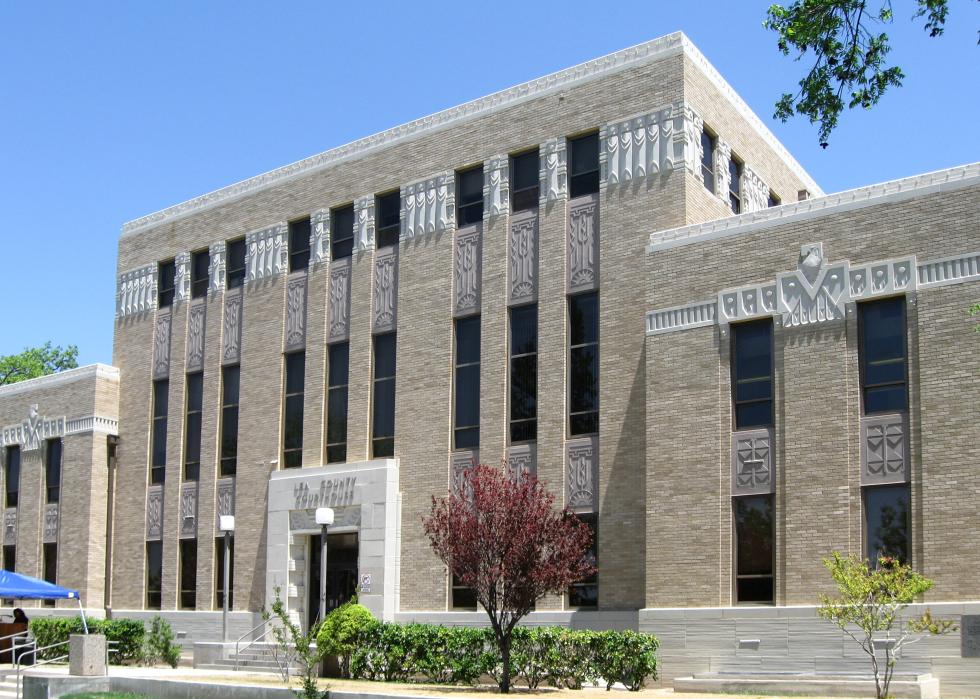 22 / 33
AllenS // Wikimedia Commons
#12. Lea County, NM
– New cases per 100k in the past week: 281 (200 new cases, -19% change from previous week)
– Cumulative cases per 100k: 29,191 (20,746 total cases)
— 2.3% more cases per 100k residents than New Mexico
– Cumulative deaths per 100k: 536 (381 total deaths)
— 35.7% more deaths per 100k residents than New Mexico
– Population that is fully vaccinated: not available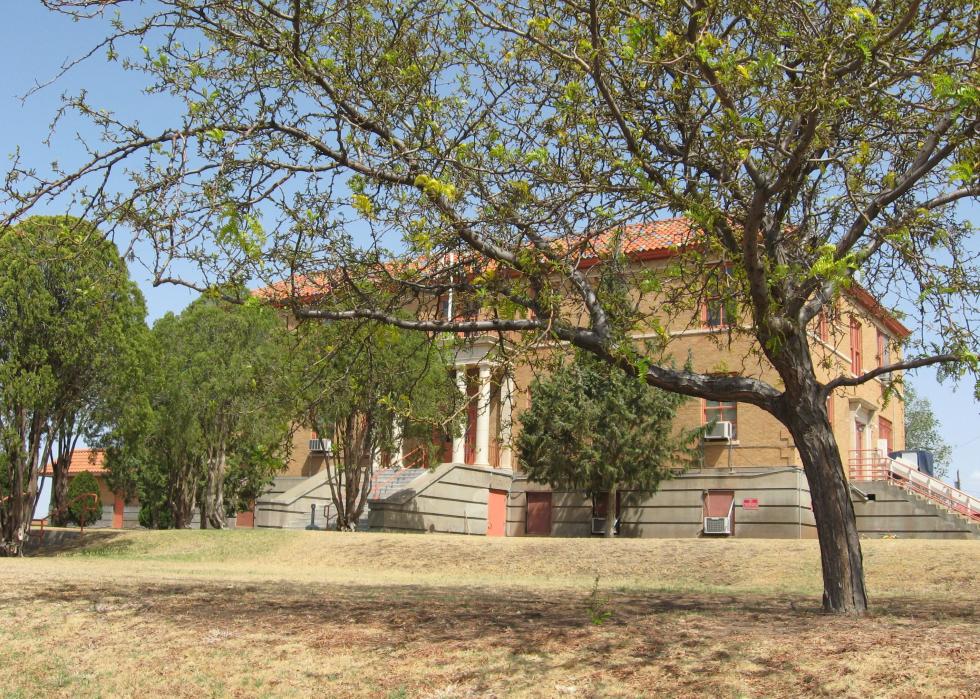 23 / 33
Wordbuilder // Wikimedia Commons
#11. De Baca County, NM
– New cases per 100k in the past week: 286 (5 new cases, +150% change from previous week)
– Cumulative cases per 100k: 36,384 (636 total cases)
— 27.5% more cases per 100k residents than New Mexico
– Cumulative deaths per 100k: 343 (6 total deaths)
— 13.2% less deaths per 100k residents than New Mexico
– Population that is fully vaccinated: not available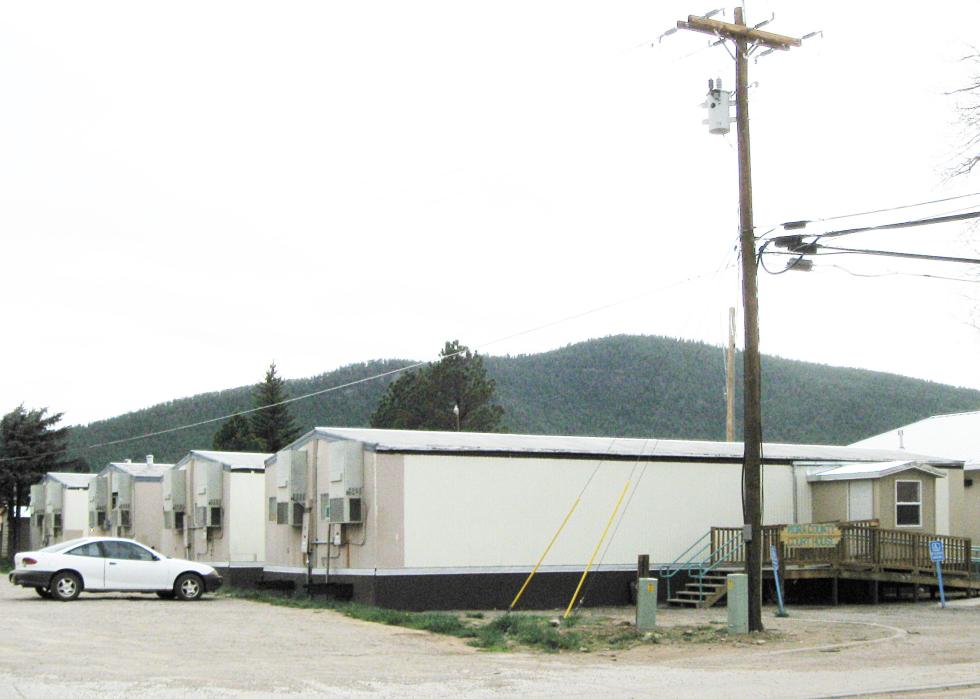 24 / 33
AllenS // Wikimedia Commons
#10. Mora County, NM
– New cases per 100k in the past week: 288 (13 new cases, +117% change from previous week)
– Cumulative cases per 100k: 20,150 (911 total cases)
— 29.4% less cases per 100k residents than New Mexico
– Cumulative deaths per 100k: 442 (20 total deaths)
— 11.9% more deaths per 100k residents than New Mexico
– Population that is fully vaccinated: not available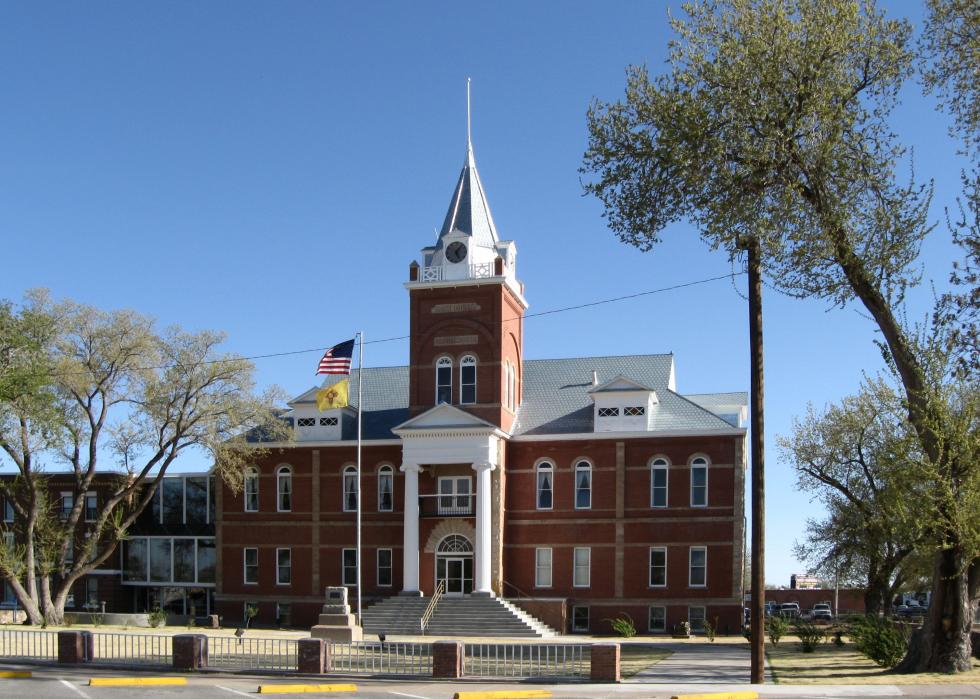 25 / 33
AllenS // Wikimedia Commons
#9. Luna County, NM
– New cases per 100k in the past week: 304 (72 new cases, -22% change from previous week)
– Cumulative cases per 100k: 31,562 (7,483 total cases)
— 10.6% more cases per 100k residents than New Mexico
– Cumulative deaths per 100k: 590 (140 total deaths)
— 49.4% more deaths per 100k residents than New Mexico
– Population that is fully vaccinated: not available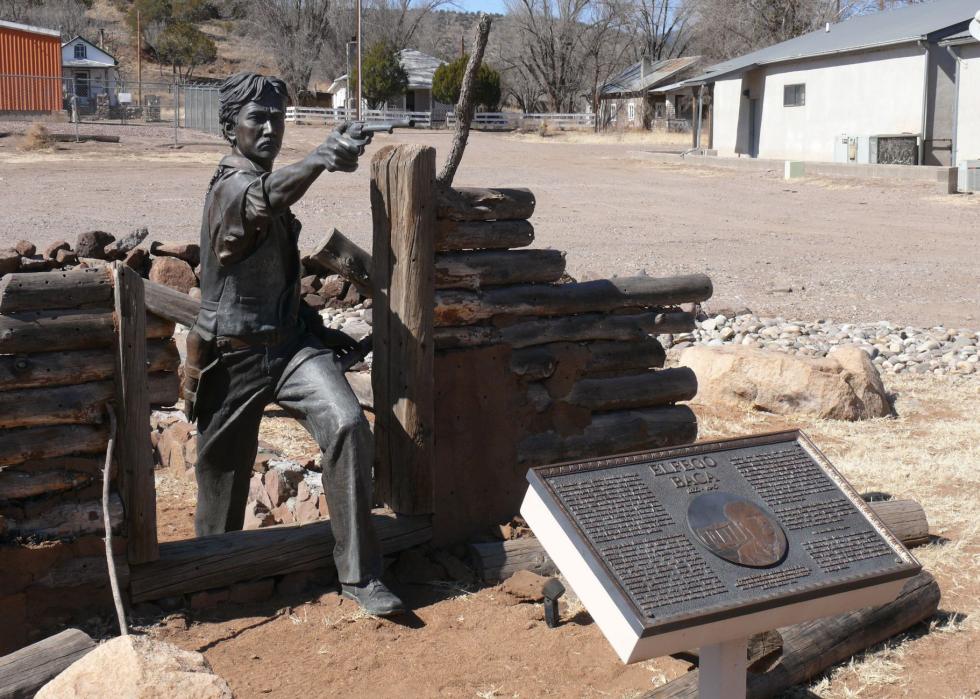 26 / 33
Peter Potrowl // Wikimedia Commons
#8. Catron County, NM
– New cases per 100k in the past week: 312 (11 new cases, +57% change from previous week)
– Cumulative cases per 100k: 13,269 (468 total cases)
— 53.5% less cases per 100k residents than New Mexico
– Cumulative deaths per 100k: 624 (22 total deaths)
— 58.0% more deaths per 100k residents than New Mexico
– Population that is fully vaccinated: not available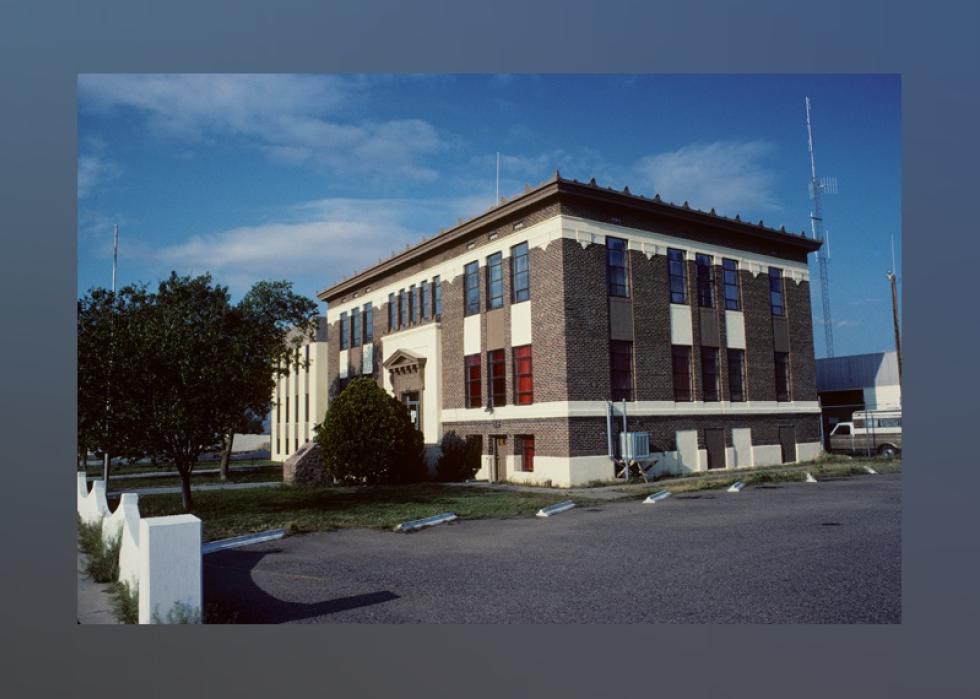 27 / 33
Calvin Beale // Wikimedia Commons
#7. Hidalgo County, NM
– New cases per 100k in the past week: 333 (14 new cases, +56% change from previous week)
– Cumulative cases per 100k: 28,633 (1,202 total cases)
— 0.3% more cases per 100k residents than New Mexico
– Cumulative deaths per 100k: 381 (16 total deaths)
— 3.5% less deaths per 100k residents than New Mexico
– Population that is fully vaccinated: not available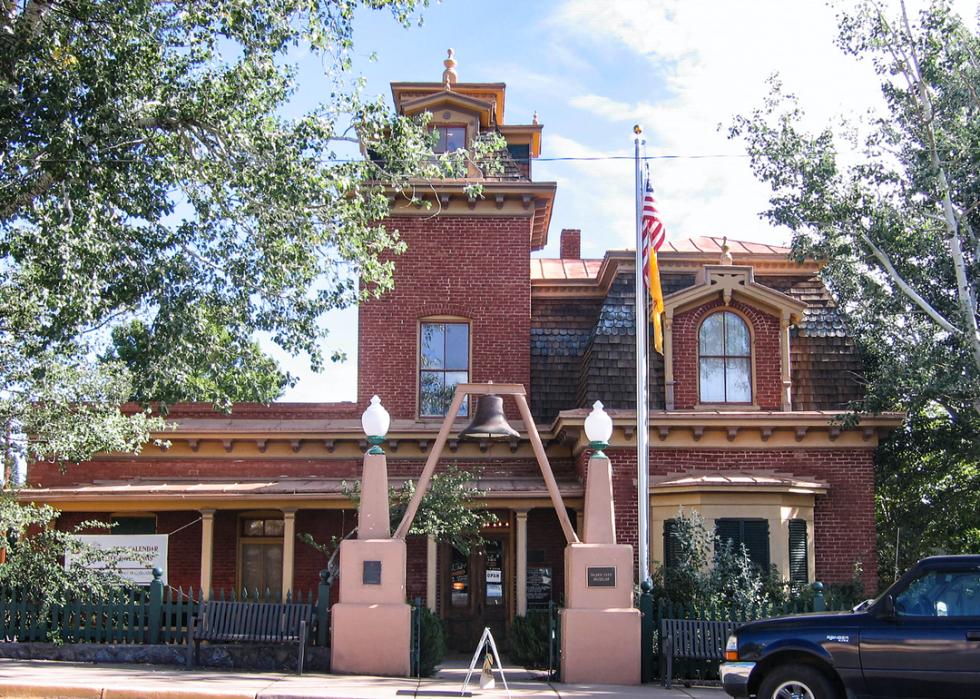 28 / 33
Underawesternsky // Shutterstock
#6. Grant County, NM
– New cases per 100k in the past week: 341 (92 new cases, -7% change from previous week)
– Cumulative cases per 100k: 30,513 (8,238 total cases)
— 6.9% more cases per 100k residents than New Mexico
– Cumulative deaths per 100k: 389 (105 total deaths)
— 1.5% less deaths per 100k residents than New Mexico
– Population that is fully vaccinated: not available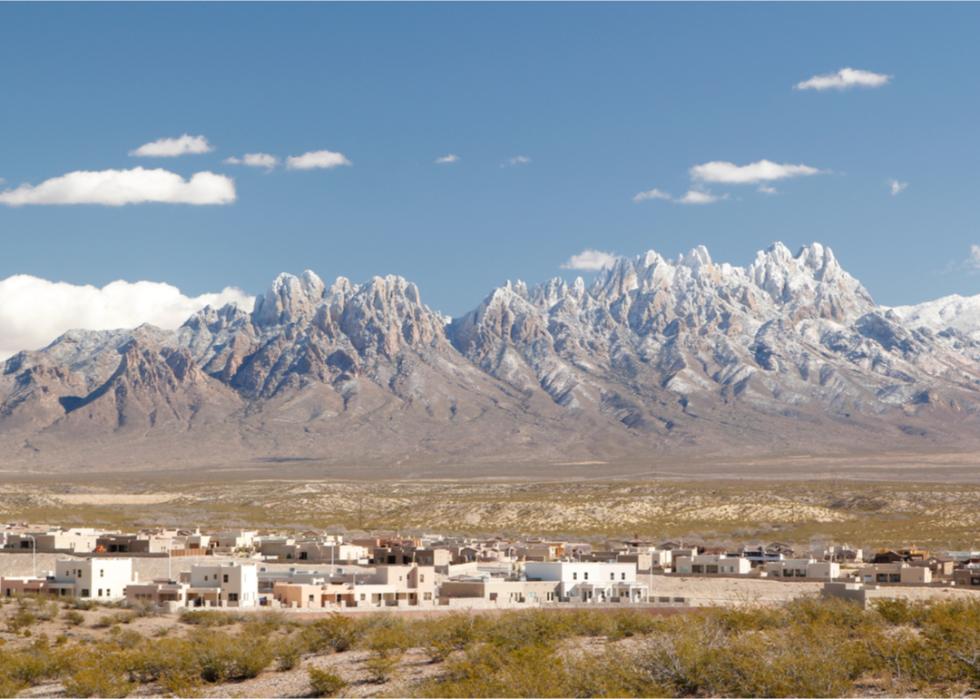 29 / 33
David Langford // Shutterstock
#5. Doña Ana County, NM
– New cases per 100k in the past week: 362 (789 new cases, -6% change from previous week)
– Cumulative cases per 100k: 32,377 (70,646 total cases)
— 13.5% more cases per 100k residents than New Mexico
– Cumulative deaths per 100k: 395 (861 total deaths)
— 0.0% less deaths per 100k residents than New Mexico
– Population that is fully vaccinated: not available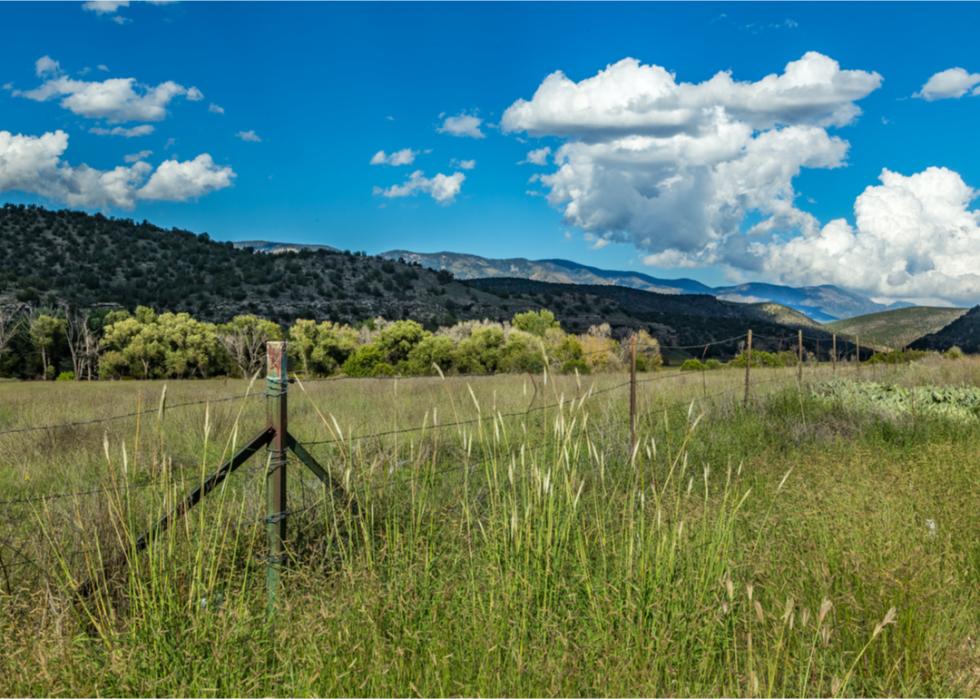 30 / 33
Gestalt Imagery // Shutterstock
#4. Lincoln County, NM
– New cases per 100k in the past week: 368 (72 new cases, +3% change from previous week)
– Cumulative cases per 100k: 30,595 (5,988 total cases)
— 7.2% more cases per 100k residents than New Mexico
– Cumulative deaths per 100k: 347 (68 total deaths)
— 12.2% less deaths per 100k residents than New Mexico
– Population that is fully vaccinated: not available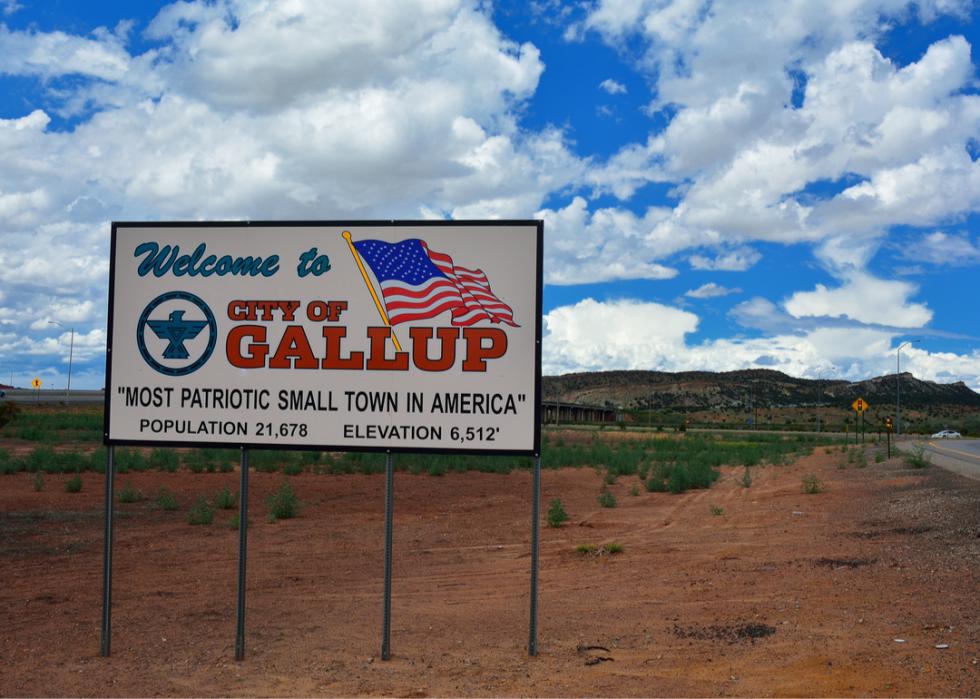 31 / 33
StockPhotoAstur // Shutterstock
#3. McKinley County, NM
– New cases per 100k in the past week: 423 (302 new cases, -10% change from previous week)
– Cumulative cases per 100k: 40,884 (29,178 total cases)
— 43.3% more cases per 100k residents than New Mexico
– Cumulative deaths per 100k: 859 (613 total deaths)
— 117.5% more deaths per 100k residents than New Mexico
– Population that is fully vaccinated: not available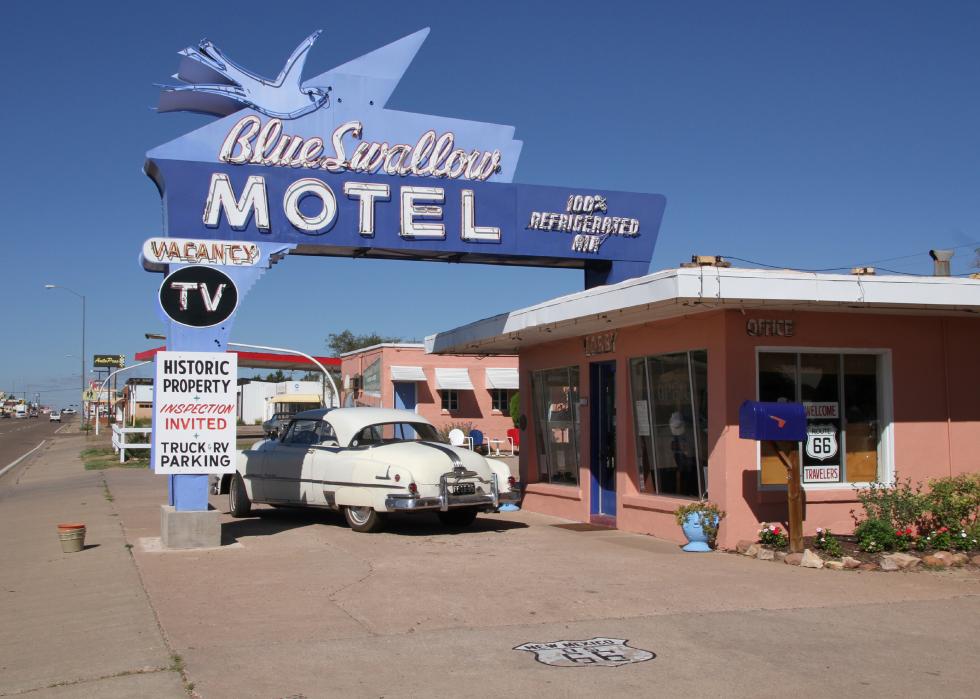 32 / 33
Tony Hisgett // Wikimedia Commons
#2. Quay County, NM
– New cases per 100k in the past week: 497 (41 new cases, +58% change from previous week)
– Cumulative cases per 100k: 27,529 (2,272 total cases)
— 3.5% less cases per 100k residents than New Mexico
– Cumulative deaths per 100k: 788 (65 total deaths)
— 99.5% more deaths per 100k residents than New Mexico
– Population that is fully vaccinated: not available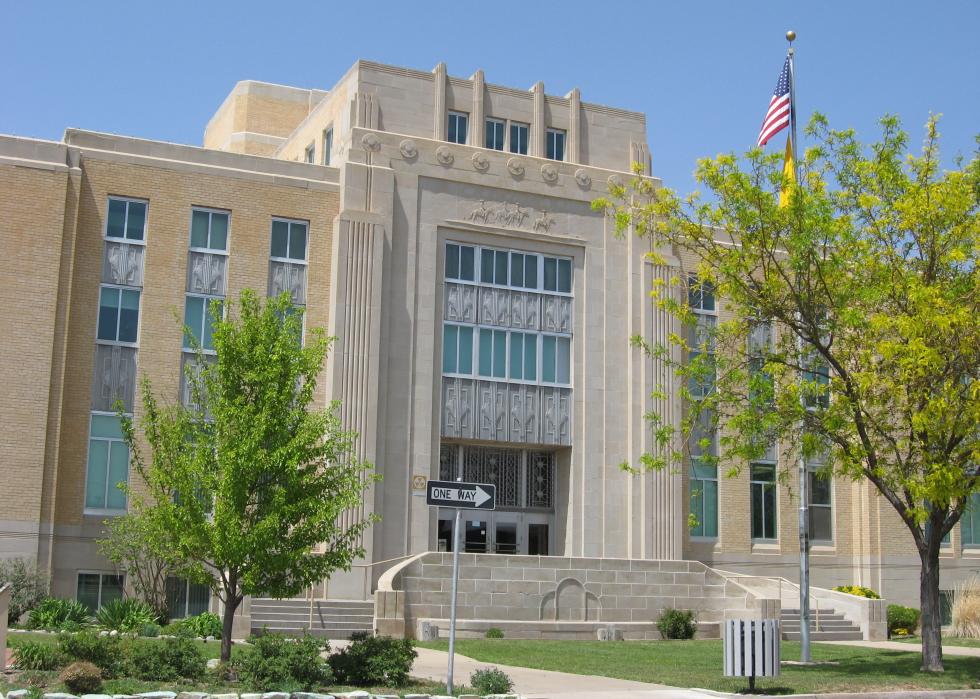 33 / 33
Wordbuilder // Wikimedia Commons
#1. Roosevelt County, NM
– New cases per 100k in the past week: 568 (105 new cases, +12% change from previous week)
– Cumulative cases per 100k: 30,038 (5,557 total cases)
— 5.3% more cases per 100k residents than New Mexico
– Cumulative deaths per 100k: 573 (106 total deaths)
— 45.1% more deaths per 100k residents than New Mexico
– Population that is fully vaccinated: not available