The Albuquerque skyline is iconic, not just for the beautiful Sandia Mountains, but for the colorful hot air balloons scattered across the sunrise. Rainbow Ryders has been part of that iconography for 40 years.
"I wanted to avoid a real job," said Scott Appelman, founder and CEO of Rainbow Ryders.
He started the hot air balloon company with one two-passenger balloon operating out of a garage. Forty years later, the company is the official balloon ride operator for the Albuquerque International Balloon Fiesta and employs some of the best balloon pilots in the world.
Appelman originated the Fiesta's Balloon Glow, and organized the Special Shapes Rodeo, two highlights of the Fiesta. Rainbow Ryders renewed the contract to serve as the official Fiesta balloon ride provider in March.
"It's weird because everybody said, you work so hard, but I really didn't feel like I was working because I love what I do. I'm incredibly proud of everything that's happened. It takes a big team to make this happen," Appelman said.
The company operates 47 active balloons in three markets, employs more than 100 people and flies 45,000 people each year, and have flown over 750,000 over the 40 years, Appelman estimates.
"I've always loved aviation," Appelman said. "I used to be that nerdy little guy that would hang out at the end of the runway and watch planes take off. The idea of flying and just having no steering wheel and just kind of navigating what mother nature gives you, it's a lot of fun and every flight's different."
Appelman went to the first Balloon Fiesta when he was 12 years old. Just two years later, he was at the Fiesta crewing. By the time he got to college, Appelman had a buddy with a hot-air balloon who taught him to pilot. After finishing a degree in finance, Appelman started ballooning recreationally around the country.
"I was having a great time and decided that I was going to quit the family business, which was Academy Plumbing and Heating, and decided to see if I could make a living doing hot air balloon rides. I started with a two-passenger balloon, and I'm now the largest company in the world. It's been a heck of a ride."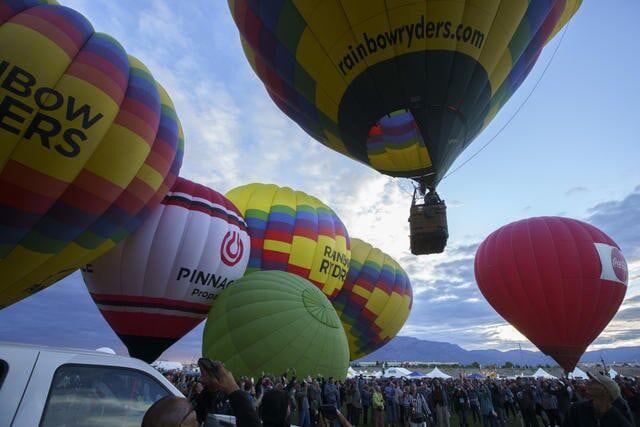 Balloon Fiesta has given the company brand recognition in other markets, and the ballooning company has used that recognition to reach higher altitudes.
"Twenty years ago when I first started, it was probably 30% of our annual sales, and now it's 8%, so Fiesta's great and very, very busy, don't get me wrong. But I think Balloon Fiesta and other balloon events across the country show people that balloons are accessible, and they get to see what it's all about," Appelman said.
Although Albuquerque may offer some of the best skies in the world for ballooning, and Balloon Fiesta built a market of balloon riders and helped Rainbow Ryders gain brand recognition, success was never guaranteed.
Growth took guts. The company opened a Phoenix office in the middle of a recession in 2009.
"There were 13 companies there, and it went down to one, so we saw a great opportunity. As the market came back, we were there and we were ready," Appelman said.
That same anticipatory thinking is why Rainbow Ryders is opening a new office in Glendale, Arizona on the westside of Phoenix in December.
One challenge of growth is finding pilots. There are a shortage of people signing up to do the job.
Pilot applicants are often already qualified to fly balloons, but Rainbow Ryders works with the pilots to train them to fly larger baskets, which are less responsive and harder to control.
The pilot license requires at least 10 hours of flight time, with a ground written exam and an in-flight exam, while a commercial license takes more hours. Rainbow Ryders looks for pilots with 100 to 150 hours of flight time.
Troy Bradley has more flight hours in Albuquerque than any other balloon pilot. The chief pilot for Rainbow Ryders has been flying longer than the company's been around — 43 years. He's run his own ballooning business, flown in Turkey, and broken 64 world ballooning records, including long distance flights across the Atlantic and Pacific oceans.
But for the past 15 years, he's been flying for Rainbow Ryders, a job he loves.
"If I was out there flying every day by myself, I'd probably be bored with it by now. It's taking people out and seeing them experience it for the first time. It's the joy in their eyes, the smiles you're putting on their faces. It's hard to beat. It's hard to call it a job when you're doing something like that," Bradley said.
With passengers who are taking a balloon ride for fun and likely for the first time, safety is always the primary concern.
"When I'm by myself or with a co-pilot that understands the risks, I'll be a little more aggressive, but with calling the weather on the rides, I'm the most conservative pilot out there. I don't want an iffy day for anybody," Bradley said.
While it may be difficult to find pilots, finding customers has gotten easier. Business has doubled or tripled since the COVID-19 pandemic, Appelman said.
"The concept of tomorrow isn't promised hit hard with a lot of people," Appelman said.
The customer demographics have also changed. Ten years ago, customers were likely to be 50 to 70 years old, but social media, where balloon basket pictures are endlessly Instagram-able, has made hot air balloon rides more popular with people in their 20s and 30s.
"People aren't waiting around — especially the younger generation. You guys want experiences. They don't want to compile a whole bunch of material items," Appelman said.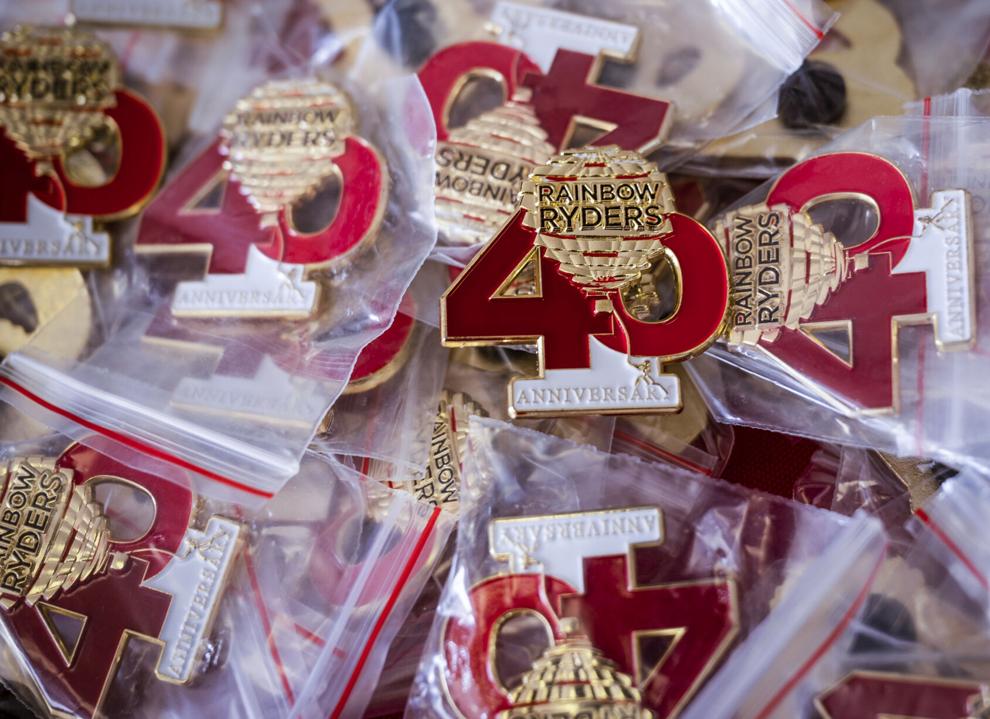 New Mexico's role as a leader in hot air ballooning has benefited the state's tourism and residents' quality of life, said Acting Tourism Director Lancing Adams.
"The brand essence of New Mexico True is about adventure steeped in culture and there really isn't anything that embodies that spirit more than ballooning," Adams said.
In 2022, the Albuquerque International Balloon Fiesta had over 800,000 attendees, 76% of which came from out of state, according to an economic impact report generated by Forward Analytics. The event generated $203 million of economic impact for businesses in the Albuquerque metro area, the report estimated.
In New Mexico, 85% of the Rainbow Ryders' customers are tourists visiting the city, Appelman said, and riders are often celebrating something, like bachelorette parties or family reunions. There are four or five proposals a week, Appelman said.
"I was traveling with one of our corporate clients back in the 90s and I was filling up one of the vans in the middle-of-nowhere Oklahoma. This gentleman walks up, this old cowboy, he says, 'You Scott?' I say, 'Yes I am.' And he's shaking my hand as I'm pumping gas in the van, and he says, 'You flew me and the missus years ago on our anniversary and she's still talking about it, and I want to thank you.'"
"Being part of that memory and being able to create a situation where that was that meaningful to people, you're doing something good," Appelman said.