For years, Connie Collis has dedicated her life to caring for animals.
It started with horses and now includes a bucking bull, 10 dogs, chickens and a few goats.
As the director of The Stables at Tamaya, it's still a passion to help out.
And this is why Collis and her team are holding the Tamaya Horseshoes & Heels Gala from 5-9 p.m. Saturday, Nov. 25, at Hyatt Regency Tamaya Resort & Spa.
Collis says the event will mark the fifth year of the fundraiser.
"We've found that holding the event the Saturday after Thanksgiving is magical," Collis says. "There's a silent auction, and we will have horses there for photo ops."
The charity event will bring awareness to the plight of unwanted horses in New Mexico and raise funds for its ongoing efforts to rescue and rehabilitate animals in need.
Founded more than 10 years ago at Hyatt Regency Tamaya Resort & Spa's Stables at Tamaya, the Tamaya House Rehabilitation Program has helped and rescued more than 200 horses. Thousands of horses are abandoned annually in New Mexico and several factors can lead to unwanted, abandoned or surrendered equine, including the animal's decline in health or behavioral problems and the owner's financial or physical hardships.
"Currently, we have a little over 100 horses in our care," she says. "The program has seen 250 come through. It's only getting worse. The price of hay and the economy are adding to the stresses of caring for a horse. Our mission is to help more, and we can also help facilitate people with keeping their horses."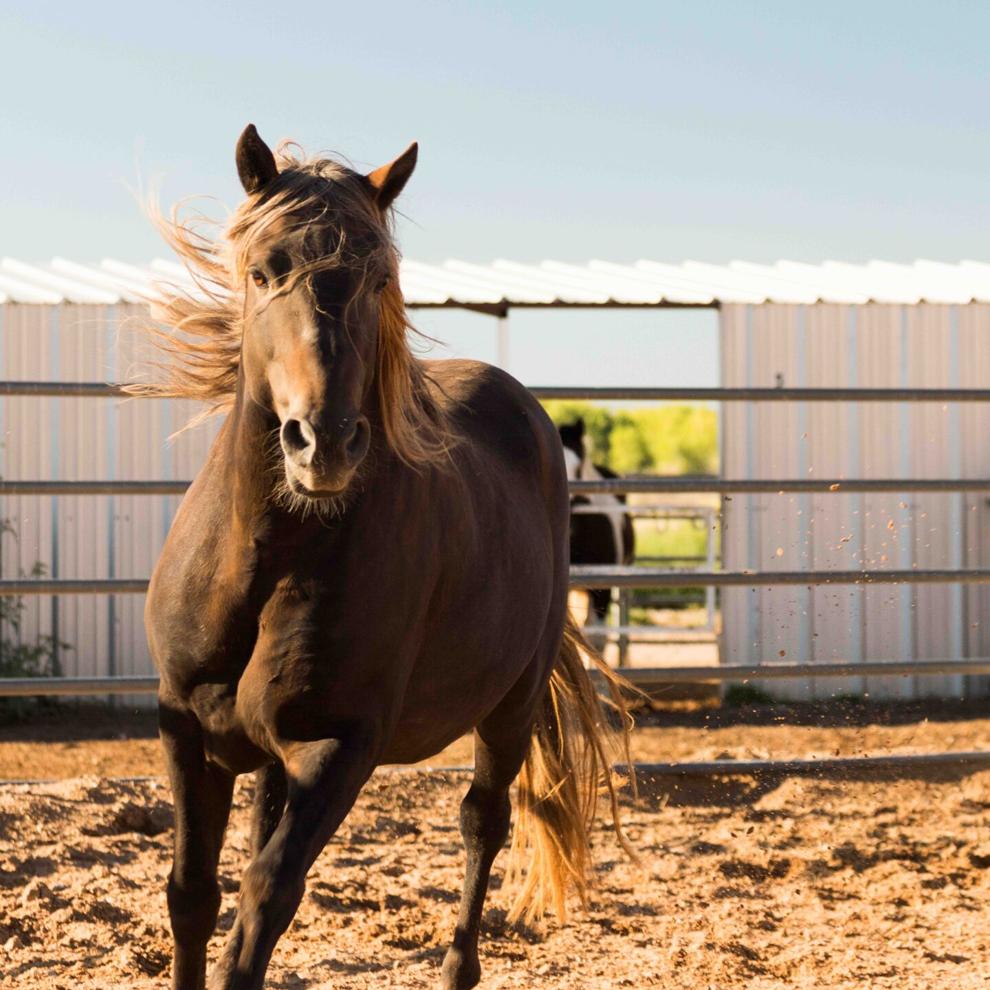 Collis says the gala begins with a cocktail reception for socializing and a silent auction to bid on select items ranging from hotel stays to artwork to jewelry.
Guests will also have the opportunity to be photographed with some of the rescued horses visiting the gala. The resort's culinary team will serve a three-course meal specially prepared for the event. It will be followed by a fun and engaging live auction, music and dancing, and a live performance from the Austin Van Music band.
"Austin grew up in 4-H with me," Collis says. "This is the way he gives back. I have pictures of him when he was little, and he would dress up as Elvis. It's amazing that he's a musician now. We have a good history with him and his family."
Collis says companies, organizations, groups and individuals can also contribute to Tamaya Horse Rehabilitation through a variety of support programs, including donating a bale of hay, virtually adopting a horse, and becoming an event sponsor. Visit the site at tamayahorserehab.com/howyoucanhelp for more information.
On Nov. 28, or Giving Tuesday, people can give the gift of horse rehabilitation by contributing to the program in the name of their friend or loved one by visiting tamayahorserehab.com. They can also support the stables' Buy a Child a Ride program with a $50 donation. It provides a horseback ride or horse experience for an underprivileged child.
"The event has grown each year," Collis says. "We have very nice attendance, and the support really matters. There's plenty of opportunities to learn more about horses."
TAMAYA HORSESHOES & HEELS GALA
Tamaya Horseshoes & Heels Gala
WHEN: 5-9 p.m. Saturday, Nov. 25
WHERE: Hyatt Regency Tamaya Resort & Spa,
1300 Tuyuna Trail, Santa Ana Pueblo
INFORMATION: Schedule and tickets at